In Flower This Week
A weekly news sheet prepared by a Gardens' volunteer.
Numbers in square brackets [ ] refer to garden bed Sections. Plants in flower are in bold type.
View past issues of 'In Flower This Week'.
9 December 2011
Scaevola ramosissima
click for larger image
Towards the upper level of the stairs to the Information Centre, a Mallee Ash, Eucalyptus langleyi [Section 172] is a young upright tree bearing many buds now opening to cream fluffy flowers. The wall of orchids inside the Centre are often changed and outside the doors in a pot, Grevillea leptobotrys displays its lovely strands of pink flowers among the entanglement of wiry branches. Edging Banks Walk plants include Scaevola aemula 'Aussie Crawl' [Section 174] a dwarf compact plant with deep purple fan-shaped flowers. Close by is Scaevola albida [Section 174] with smaller pale pink flowers. In a pot, a kangaroo paw, Anigozanthos rufus 'Kings Park Federation Flame' [Section 174] which displays its 'paw-like' orange-red hairy flowers on terminal stems. Anigozanthos 'Bush Dawn' [Section 210] has yellow flowers. Many kangaroo paws of varying colours are now flowering in the Gardens including Anigozanthos 'Big Red' [Section 210] bears its attractive vermillion stems and flowers. Scaevola ramosissima [Section 210] is another floriferous dwarf plant with large purple flowers.
Returning to the lower level Plectranthus sp. [Section 125] is a vigorous herb with grayish velvety leaves and spikes of tiny blue flowers. Rounding the curve Clerodendrum floribundum var. attenuatum [Section 125] is a tall slender shrub with speckled trunk and terminal clusters of cream buds now opening to white petalled flowers. Edging the road an orchid, Cymbidium suave [Section 125] rooting on an old tree trunk, is dense with long leaf spikes among which are long arching sprays of tiny brownish-green flowers. Seen from this road are few tall shrubs, Cuttsia viburnea [Section 125,114] with its many branches crowned with dense clusters of white daisy-like perfumed flowers.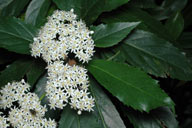 Cuttsia viburnea
click for larger image
A corner dense with ground-cover Grevillea 'Poorinda Royal Mantle' [Section 124] has many toothbrush-like deep red flowers. Pandorea jasminoides 'Lady Di' [Section 124] picturesque with large pink trumpet-like flowers, twines about the trunk of a bottlebrush Callistemon 'Harkness' [Section 124] a tall open shrub with red flowers. Grevillea 'Poorinda Diadem' [Section 126] a shrub of medium size bearing apricot coloured spider-like flowers. Rounding the corner on the left side path, Callistemon 'Little John' [Section 124] is a medium rounded shrub with dark red bottlebrushes. Blueberry Ash, Elaeocarpus reticulatus 'Prima Donna' [Section 119] has pretty pink downturned frilly flowers in profusion among the foliage of this tall shrub. Another groundcover, Goodenia ovata [Section 117] covers the rock edge displaying its bright yellow flowers. Almost opposite, an emu-bush, Eremophila 'Aurea' [Section 302] has yellow tubular flowers on the small open shrub.

Entering the Brittle Gum lawn, Grevillea 'Robyn Gordon' [Section 109] is a low open shrub with divided leaves and large red terminal flowers. Seen on the far side of the lawn is Grevillea robusta [Section 107], a tall tree open with lateral branches and gold with large flower sprays favoured by many birds. These trees are also obvious in sections 105 and 78.
A return walk through the cool green Rainforest is a pleasant experience.

The Gardens, a pleasant place to visit … Barbara Daly