In Flower This Week
A weekly news sheet prepared by a Gardens' volunteer.
Numbers in square brackets [ ] refer to garden bed Sections. Plants in flower are in bold type.
View past issues of 'In Flower This Week'.
25 November 2011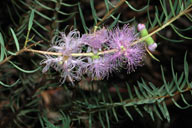 Melaleuca radula
click for larger image
The orchid display inside the Visitors Information Centre is continuously changing and worth visiting. Kangaroo Paws can be seen throughout the gardens and are so colourful, as seen edging Banks Walk. However this walk aims to cover flowers in the Mallee Section which contains species from South and Western Australia. To get there follow the map to start near the Ducrou Pavilion. Follow the road uphill where an emubush, Eremophila ionantha [Section 100b] is an open shrub bearing violet coloured tube shaped flowers. Grevillea tetragonoloba [Section 100b] is a spreading shrub with fine divided leaves and red toothbrush-like flowers. Its branches lean towards the road. Melaleuca radula [Section 100b] is of medium size with ovoid mauve flower clusters.

Take the path to the right and enter the boardwalk walking in an anticlockwise direction.
Billardiera lehmanniana [Section 100a](4) is a rounded dense shrub or vine bearing many small, almost white petalled flowers and are seen in other parts of this section. Emu bush, Eremophila christopheri [Section 100a] bears many mauve flowers in this many branched shrub. Kangaroo paws, Anigozanthos rufus 'Kings Park Federation Flame' [Section 100b] in a row and elsewhere, has burnt orange 'paw' flowers atop long upright bare stems. Behind is Grevillea pilosa [Section 100b] has powdery pink flowers along the prostrate branches sharing with sharp holly-like leaves. Eremophila alternifolia [Section 100b] is an open shrub with bright red flowers while Eremophila racemosa [Section 100b] is obvious having orange to red buds opening to bugle shaped flowers shaded cherry red, maybe purple. Melaleuca fulgens [Section 100b] has orange-red bottlebrush-like flowers on the medium size shrub while Jacksonia lehmannii [Section 100b] has a weeping habit clad in profusion with small orange pea-shaped flowers. Eremophila bignoniiflora x polyclada [Section 100b] has quite large bugle-shaped flowers coloured cream with dark spotted throat.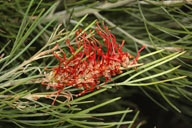 Grevillea tetragonoloba
click for larger image
Continuing around the curve where Verticordia chrysantha [Section 100c] is a dwarf plant yellow with small feathery flowers. Verticordia plumosa var. plumosa [Section 100a] is another dwarf shrub clad with dusky pink-red feathery flowers. Dampiera linearis [Section 100c] is yet small and clad with deep blue flowers. Diplolaena microcephala [Section 100c.a] has interesting dusky red flower heads in prominent green bracts. Pelargonium rodneyanum [Section 100c] is a semiprostrate spreading plant with soft velvety leaves and lovely magenta coloured geranium-like flowers. Grevillea asteriscosa [Section 100c] with prickly foliage is beautified with rich red flower clusters on this open shrub. At the exit of the boardwalk, Melaleuca pentagona [Section 100c] has a profusion of small pink globular flower heads over the dense shrub. There were so many other flowering shrubs in this mallee garden.

Worth the visit … Barbara Daly.