In Flower This Week
A weekly news sheet prepared by a Gardens' volunteer.
Numbers in square brackets [ ] refer to garden bed Sections. Plants in flower are in bold type.
View past issues of 'In Flower This Week'.
18 November 2011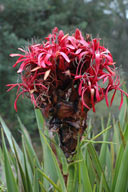 Doryanthes excelsa
click for larger image
Flowers in the Gardens are forever changing but always magnificent. Enjoy those from the Banks Walk then continue to the Rock Garden where space allows only few flowers can be mentioned. To arrive there follow the road on the far side of the Rainforest turning right at the connection of the Main Path which will reach the Rock Garden waterfall.

In clockwise direction at the base of the stairs the grandiose Gymea Lily, Doryanthes excelsa [Section 15c] stands tall with its large clusters of red flowers atop a stem surrounded by large strappy leaves. At the base, Digger's Speedwell, Derwentia perfoliata [Section 15c] a low spreading shrub with blue flowers edging its upright stems. Opposite, one of many hibbertias in these gardens, Hibbertia pedunculata [Section 15d] is a dense groundcover with bright yellow flowers, crowded between the rocks. Grevillea 'Poorinda Royal Mantle'[Section 15d] with red toothbrush –like flowers also a dense groundcover, cascades down the rockface . Above is one of many kangaroo paws, Anigozanthos 'Regal Claw'[Section 15d] displaying its burnt orange 'paw' shaped flowers on long upright stems. Brachyscome multifida [Section 15d] is a compact dwarf plant with small purple daisy-like flowers amid the soft foliage, seen edging the path. At the far end Banksia blechnifolia [Section 15d] is a prostrate plant dense with long upright deeply lobed tough leaves which almost conceal its cylindrical upright flower spikes coloured green maturing to pink all sitting on the ground.

Patches of small clusters on yellow, Verticordia galeata [Section 15f] edge this garden bed whereas behind the seat ahead, teatree, Leptospermum 'Merinda'[Section 15h] is a shrub of medium size clad in profusion with cherry coloured flowers, also seen along the entrance to the Gardens. Here too, are Vanilla Lillies, Arthropodium milleflorum [Section 15h,15g] with long graceful flower spikes bearing small pale pink flowers surrounded by grass-like foliage. Edging the stairs, Grevillea 'Masons Hybrid'[Section 15h] is an ageing spreading shrub with long branches clad with terminal clusters of pink-cream flowers.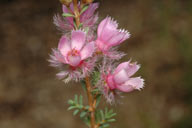 Verticordia pennigera
click for larger image
Edging this top road, Scaevola albida var. albida [Section 15h] displays its mauve fan-shaped flowers on the small spreading plant. At the far end a waratah, Telopea 'Corroboree'[Section 15j] is a large shrub clad with many red flower heads.
Taking the path to the lower level, where, at the corner, Persoonia chamaepitys [Section 15p] is a small dense groundcover colourful with tiny orange tube shaped flowers. (To the right is a Living Growing Experiment of alpine species from alpine regions[Section 15n) Labichea lanceolata [Section 15r] has a profusion of yellow petalled flowers over the medium size shrub while in front in a pot, Verticordia pennigera with pink feathery flowers and Verticordia galeata with yellow flowers are together, so attractive. Further down, Leptospermum rotundifolium 'Julie Ann' [Section 15s] is a prostrate plant with mauve flowers seen falling down the rocks. In front of the waterfall a bottlebrush, Callistemon citrinus 'Splendens'[Section 4] is tall and graceful and clad with a profusion of red bottlebrushes. So sit awhile, enjoy the view in front.

Always other flowers to enjoy … Barbara Daly.