In Flower This Week
A weekly news sheet prepared by a Gardens' volunteer.
Numbers in square brackets [ ] refer to garden bed Sections. Plants in flower are in bold type.
View past issues of 'In Flower This Week'.
11 November 2011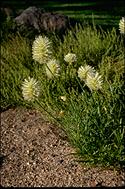 Ptilotus macrocephalus
click for larger image
Flowers are plentiful which include kangaroo paws, bottlebrushes and tea-trees. However this walk will concentrate on flowers about the buildings commencing at the Visitors Centre inside which is a colourful display of orchids. Pots outside the doors include Ptilotus macrocephalus with prominent heads of fluffy cream flowers and the kangaroo paw Anigozanthos 'Bush Volcano' displaying its vivid burnt red 'paw' shaped flowers.

Edging Banks Walk Alyogyne huegelii 'West Coast Gem' [Section 210] dominant with its large hibiscus flowers on a large open shrub Epacris longiflora [Section 174] has branches standing tall with pendent rows of white tubular flowers. Leptospermum 'Tickled Pink' [Section 174] is prominent with deep pink petalled flowers covering the medium rounded shrub. Edging the path Hibbertia vestita [Section 174] is a small prostrate plant bright with yellow open flowers. Isopogon 'Little Drumsticks' [Section 210] has large yellow flower heads over the small shrub. This next group of pots include Coppercups, Pileanthus vernicosus a small shrub with salmon red open petalled flowers and Anigozanthos 'Bush Dance' with upright dark red stems with dark green flowers. A Geraldton Wax, Chamelaucium 'Cascade Jewel' [Section 174] has waxy pink flowers among the fine foliage over the medium size open shrub.

Across the bridge opposite, or in the Ellis Rowan Garden, Epacris longiflora [Section 131] has slim tubular flowers in line, coloured red with white mouth along the straggling branches. Callistemon citrinus 'Splendens' [Section 240] is a large shrub dotted with bright red bottlebrush flowers. Behind, leaning towards the other path, Leptospermum 'Pink Cascade'[Section 240] has soft pink flowers while beside, Grevillea 'Bonfire'[Section 240] has waxy red open flowers.

Take the left road past the building, Melaleuca squarrosa [Section 10] bears small cream bottlebrush-like flowers while Melaleuca fulgens [Section 10] with tangerine coloured flowers peeps through other shrubs. Beside is Eremaea pauciflora var. pauciflora [Section 10] an upright shrub with branches tipped with small orange flowers. Past the magnificent Eucalyptus mannifera is Calllistemon salignus [Section 10] a tall dense shrub clad with cream bottlebrushes.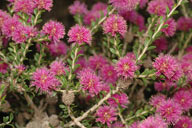 Melaleuca spathulata
click for larger image
Take the small path to the right where Leptospermum lanigerum [Section 10] is a low spreading shrub bearing large white flowers. Around the corner to the left, Melaleuca fulgens 'Hot Pink' [Section 10,11] upright shrubs with fiery pink flowers. At the next corner Melaleuca spathulata [Section 9] is attractive with a dense covering of small deep mauve globular flowers. Take the path to the left to view Homoranthus bornhardtiensis [Section 10] a low shrub with long lateral branches clad with layered yellow perfumed flowers. Beside is Micromyrtus ciliata [Section 10] small dense plants clad with tiny white flowers now changing to brick red flowers. The left path leads to the café building.

Short colourful stroll … Barbara Daly.