In Flower This Week
A weekly news sheet prepared by a Gardens' volunteer.
Numbers in square brackets [ ] refer to garden bed Sections. Plants in flower are in bold type.
View past issues of 'In Flower This Week'.
28 October 2011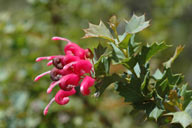 Grevillea 'Merinda Gordon'
click for larger image
Springtime flowers, especially along Banks Walk are so colourful as are the orchids inside the Visitors Information Centre. However those further afield are a joy to view. They include boronias coloured white, all shades of pink to red. To arrive there, select any path or follow that marked on the reverse map, to the section between 45 and 49.

Walk by many yellow pea-shaped flowers which are now falling. Flowers then are mostly white on large shrubs. Boronia clavata [Section 48] in the centre of the section is of medium size, is dense with lemon buds opening to lemon-green four petalled flowers. Continuing ahead Zieria parrisiae [Section 48] is a large rounded shrub clad with many small white flowers. Opposite are ground-covers, vines, Kennedia retrorsa [Section 47] burnt orange pea-shaped flowers and native sarsaparilla, Hardenbergia comptoniana [Section 47] with purple pea-shaped flowers. They both climb over Eutaxia cuneata [Section 47] a dense rounded shrub clad with small red centred orange pea-shaped flowers. To the right Boronia microphylla [Section 46] is a small rounded shrub clad with tiny pink flowers while behind is Phebalium whitei [Section 46] bright with yellow flowers on the small upright plant. Boronia 'Aussie Rose'[Section 46] at the corner is a small many branched shrub clad with rich pink flowers while Boronia anemonifolia [Section 46] has long open branches clad with small white flowers. It is seen to the left of the curved path, while on the lower side a hedge of white flowering shrubs which include Asterolasia hexapetala [Section 46] with large star flowers. Almost opposite a grouping of Boronia muelleri 'Sunset Serenade'[Section 46] has a profusion of pink-white flowers. Follow the small path to the right to view Boronia heterophylla [Section 46] an upright shrub dense with deep red bell shaped flowers. Behind is Boronia muelleri [Section 46] of similar size clad with soft pink bell-shaped flowers.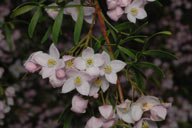 Boronia muelleri
click for larger image
From this path other boronias can be enjoyed. They include Boronia mollis 'Lorne Pride' [Section 46], in a group with pink flowers amid the dark foliage to the left and Boronia 'Tyalge Ruby' [Section 46] with its soft pink flowers, to the right. Behind is Boronia 'Telopea Valley Star' [Section 46] with bright pink flowers. Diplolaena microcephala [Section 46] is an upright plant with interesting down-turned greenish-yellow flowers while Grevillea johnsonii [Section 56] is a large old shrub displaying its large waxy pinkish flower spikes, wrapped about a tree trunk. Opposite is Grevillea 'Merinda Gordon'[Section 56], a low spreading shrub clad with sharp holly-like leaves and cherry red flowers. To the left a waratah, Telopea mongaensis x oreades [Section 56] displays its terminal red flower heads while at the top of the path, opposite the seat, Grevillea montis-cole [Section 56] is a low spreading shrub bright with deep red short toothbrush-shaped flowers among the spiky leaves.

Around the corner Telopea mongaensis [Section 56] also displays its bright red flower-heads beside Dryandra squarrosa subsp. squarrosa [Section 56] an erect plant displaying its yellow flower heads. Other paths downhill have differing flowers to admire and all downward paths will lead to the coffee shop.

A pretty area to explore with a variety of bird life …….Barbara Daly