In Flower This Week
A weekly news sheet prepared by a Gardens' volunteer.
Numbers in square brackets [ ] refer to garden bed Sections. Plants in flower are in bold type.
View past issues of 'In Flower This Week'.
21 October 2011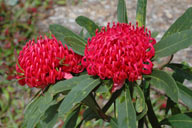 Telopea 'Corroboree'
click for larger image
All the flowers described in this weeks' "In Flower This Week" walk are located in the Rock Garden which is located about halfway along the Main Path loop trail. Please note this walk will involve steps.

Start in the Visitor Centre with a look at the beautiful Orchid Display. Turn right as you exit the Visitor Centre and head along the Main Path till you come to the statue of Sir Joseph Banks. Turn left and soon you will be walking along the top boardwalk of the lush, green Rainforest Gully. Many of the plants here have brightly coloured fruits and beautiful reddish orange tips of new growth. Keep an eye out for the rich birdlife and you may also be lucky enough to hear the frogs calling in the creek below.

As you leave the Rainforest, it is well worth stopping to admire the Wollemi Pine, Wollemia nobilis [Section 110] currently covered with numerous pollen-filled male cones and a single spiky female cone located at the back of the tree. Continue along to the Rock Garden where the walk starts. While enjoying the flowers in this area keep an eye out for the many Water Dragons who live here. Grevillea lanigera [Section 15c] is an attractive, low growing plant filled with red/cream nectar rich flowers. As you head up the steps it's hard to miss the amazing spreading carpet of red hooked flowers of Grevillea 'Poorinda Royal Mantle' [Section 15d] ….certainly a favourite of the bees!

A little further along is the beautiful upright Drumstick Heath or Epacris breviflora [Section 15b] with its snowy white flowers packed tightly along its prickly foliage. Just behind is the Grevillea aquifolium [Section 15b] or Holly Grevillea, with many yellow spider flowers opening to a warm pink/red colour. Again the bees are enjoying this plant and you may also be treated to its sweet honey scent. Homoranthus darwinioides [Section 15f] has rather discreet pretty yellow and pink hanging flowers. Nearby is the stunning violet/purple flowers of Platytheca galioides [Section 15f] . The beautiful Allocasuarina grampiana [Section 15b] is covered with red fluffy flower clusters on short stems along with many roundish, grey fruiting cones dotted among the lower branches. Westringia glabra [Section 15a] looks pretty with its purplish petals and lush grass green foliage. If you can smell a sweet honey-like scent while standing here, it's probably the bee-covered Homoranthus biflorus [Section 15a] with its yellow nectar-rich flowers presented in flattish horizontal layers on the bush.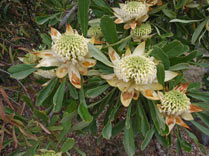 Telopea speciosissima 'Wirrimbirra White'
click for larger image
Taking the gravel path you will soon reach the stunning pink bush Micromyrtus ciliata [Section 15g] with its tiny feather-like lime green foliage and pink, soon-to-be white when open, flowers. The red waratah Telopea speciosissima 'Corroboree' [Section 15j] is stunning with its intricate red/crimson flowers. The dainty round bell shaped flowers of Darwinia masonii [Section 15j] are a beautiful combination of orange, yellow and cream and quite stylish and unusual when viewed closely. Right next door, Conostylis aculeata [Section 15j] boasts velvety soft yellow flowers on velvety stems. Heading back down towards the waterfall make a beeline for the purple pot filled with its matching mauve Calytrix leschenaultii [Section 15r]. A little further on is the amazing white waratah Telopea speciosissima 'Wirrimbirra White'[Section 15r] with its huge white flowers and shapely seed pods. Just in front is the bright orange/yellow flowers of Hibbertia stellaris [Section 15r]. Closer to the waterfall we can see the paperdaisy Rhodanthe anthemoides [Section 15s] spilling over the rocks. It is always amazing to gently feel these crinkly unusual flowers. By now you might be able to smell the heavenly scent of the brown boronia Boronia megastigma [Section 15s] as you take the steps back down to the Main Path.

For your return trip to the Visitor Centre, either retrace your steps back through the Rainforest Gully or continue on around the rest of the Main Path.

Sue Dowling