In Flower This Week
A weekly news sheet prepared by a Gardens' volunteer.
Numbers in square brackets [ ] refer to garden bed Sections. Plants in flower are in bold type.
View past issues of 'In Flower This Week'.
19 August 2011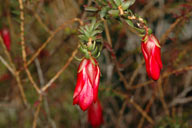 Darwinia macrostegia
click for larger image
The display of orchids inside the Visitors Information Centre is colourful and varied. Outside the doors the native rhododendron, Rhododendron viriosum conceals few of its dark red bell-shaped flowers among the glossy green leaves and throughout the gardens wattles glow golden.
Edging Banks Walk a wattle, Acacia gordonii [Section 174] is of medium size with outstretched branches crowded with tiny leaves and yellow flower balls. Epacris longiflora [Section 174] has narrow cream tube shaped flowers in line, pendent from the long wandering stems. Darwinia macrostegia [Section 174] is interesting with pendular claret toned slim cone shaped buds on the open shrub. Across the road, the limbs of the Snowy River wattle, Acacia boormanii [Section 210] are clad with fine leaves and soft golden flower balls, while behind the seat Woollsia pungens [Section 174] covers the terminal branches with tiny white flowers. At its base Epacris 'Nectar Pink' [Section 174], is a small fairly dense shrub pretty with pink tube flowers with a white mouth. Almost opposite a mint bush, Prostanthera phylicifolia [Section 210] is a dense long flowering shrub profuse with pink flowers, falling over the rockface. In a pot Darwinia oldfieldii [Section 210] is a low spreading shrub with branches crowded with small leaves and terminal red flower heads.
Taking the road on the far side of the Rainforest, Banksia spinulosa var. collina [Section 128] bears few yellow cylindrical upright flower spikes while Grevillea rosmarinifolia 'Rosy Posy' [Section 128] in a group, are small shrubs bearing dangling clusters of red-cream flowers. Twining among these plants, is a False Sarsaparilla, Hardenbergia violacea, [Section 128] clad with purple pea-shaped flowers. Dagger wattle, Acacia siculiformis [Section 128] is an upright, rather stiff shrub with aromatic soft fluffy flower balls. Around the corner the Q'ld Silver Wattle, Acacia podalyriifolia [Section 126] has grey-green foliage mixing with clusters of soft fluffy flower balls.
Follow the Main Path to the next crossing. A pot contains Isopogon asper [Section 24], a dwarf shrub with leaf clad branches and many flat, button size flowers coloured from red centred cream to pink to dark red. Opposite, Grevillea 'Lady O'[Section 26] is a low shrub with arching branches clad with red spider-like flowers. Taking the road to the right where Hakea 'Winter Burgundy'[Section 26] is upright and so brilliant with its globular cherry coloured flowers hugging the terminal branches. There too, is Banksia marginata 'Cape Patterson Dwarf' [Section 26] bearing bright yellow flower spikes. Along this road are Grevillea lavandulacea [Section 26](16) an upright shrub with grey foliage and dark red buds. Grevillea baueri [Section 26] is a low shrub with long lateral branches profuse with red-cream flowers. Grevillea 'Nana' [Section 26] another small plant bearing yellow flowers. Grevillea irrasa subsp. didymochiton [Section 26] is a large dense shrub with powdery red spider flowers scattered among the foliage.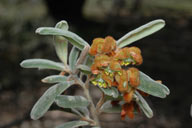 Grevillea floribunda subsp. floribunda
click for larger image
Towards the end of this road Grevillea floribunda subsp. floribunda [Section 26] is decorated with dangling rods of rust red powdery flowers over the open upright shrub. Taking the road to the left, Dryandra squarrosa subsp. squarrosa [Section 26] reveals its yellow fluffy flower heads on long branches, seen among other shrubs. Return along the path to the left above the Main Path. Notice Helichrysum elatum [Section 21] erect dense herb with many grey-green woolly stems and terminal white woolly flower heads. Return to café at the end of this road following the notice boards.
A cool, refreshing walk … Barbara Daly.