In Flower This Week
A weekly news sheet prepared by a Gardens' volunteer.
Numbers in square brackets [ ] refer to garden bed Sections. Plants in flower are in bold type.
View past issues of 'In Flower This Week'.
12 August 2011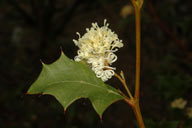 Grevillea monticola
click for larger image
Golden wattles are now brightening our fair city as they are here in the Botanic Gardens. The orchid display in the Visitors Information Centre continue to be colourful. However this walk is about the Rock Garden where flowers are many and many shrubs are laden with buds awaiting spring time. To arrive there follow the road on the far side of the Rainforest, turning right at the connection of the Main Path which will reach the waterfall.
At the base of the stairs among the rocks, Rhodanthe anthemoides [Section 15d and elsewhere] is a small dense plant now clad with tiny red and white buds which will open to white daisy-like flowers. Opposite, Grevillea lanigera [Section 15c] displays its dusky pink buds and few flower clusters over the dense groundcover while beside it is Leucopogon microphyllus var. microphyllus [Section 15c], a small shrub with tiny white flowers sprinkled over the dark foliage. Banksia integrifolia subsp. integrifolia [Section 15c,15l] is dense with silver backed leaves and lemon upright cylindrical flower spikes (more prominent on the latter shrub). Somewhat opposite, Banksia spinulosa 'Honeypots' [Section 15d] is an upright shrub with a profusion of 'honey coloured' flower spikes while in front Adenanthos obovatus [Section 15d] displays its fine red tubular flowers on the small open shrub. Grevillea monticola [Section 15d] is an upright many branched shrub with prickly toothed holly-like leaves and rods of small cream flowers. Behind, Grevillea manglesii subsp. ornithopoda [Section 15d] is well covered with cream lacy flowers over the large shrub. Between the rocks Brachyscome multifida [Section 15d] are small plants clad with purple daisy-like flowers.
Hypocalymma xanthopetalum [Section 15f] is a small ground-hugging plant with tiny yellow flower balls edging the terminal branches. Around the corner, worth viewing, Micromyrtus ciliata [Section 15g] is a small spreading shrub clad with brick red buds opening to tiny white flowers.
Edging the top road opposite many wattles just about to burst into flower, Grevillea iaspicula [Section 15h] a medium erect shrub with terminal branches bearing with buds opening to clusters of cream-pink flowers. At the next corner, Cryptandra sp. [Section 15h] is showy with a covering of small white flower clusters over the small shrub. Continue past the grouping of grass-trees, Xanthorrhoea johnsonii [Sections 15,14] to the next downward steps.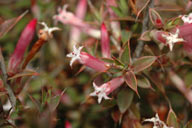 Leucopogon neoanglicus
click for larger image
Edging the lower path, Thryptomene denticulata [Section 14] is a small shrub with arching branches clad with tiny pink flowers. Close by is Baeckea crassifolia [Section 14] is a small compact plant clad with more prominent pink flowers. Beside the far seat Grevillea sp. [Section 14] with long branches hugging the ground bears many red toothbrush-like flowers. Leucopogon neoanglicus [Section 15k] is quite attractive for this low spreading shrub is clad with pink stems and small pink tube shaped flowers. At the corner Banksia 'Birthday Candles' [Section 15l] is a dwarf, dense and spreading shrub displaying its upright cylindrical golden flower spikes. At the opposite corner, Hakea corymbosa [Section 15p] is interesting with its 'cauliflower-like' clusters of sharp pointed narrow leaves mixing with lemon-green flowers over the medium-size shrub. At its base Grevillea maxwellii [Section 15p] is a semiprostrate plant with red flowers hidden below the foliage. At the lower end of the path Philotheca myoporoides [Section 15s] is prominent with its pink star-like flowers decorating the open upright shrub. In front of the waterfall and ponds Guichenotia ledifolia [Section 4] is a rounded shrub pretty with grey foliage and downturned mauve flowers.
So much colour in the wintery garden … Barbara Daly.