In Flower This Week
A weekly news sheet prepared by a Gardens' volunteer.
Numbers in square brackets [ ] refer to garden bed Sections. Plants in flower are in bold type.
View past issues of 'In Flower This Week'.
5 August 2011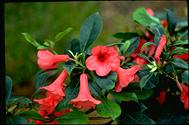 Rhododendron viriosum
click for larger image
Wattles are bursting out in flower, banksias are continuing to produce their golden flower spikes and this walk is short but full of a variety of many flowering plants.
The orchid display inside the Visitors Information Centre is inspiring. Included are Thelychiton jonesii (formerly Dendrobium jonesii) with their long fragrant sprays of cream flowers, white moth orchids, hyacinth orchids and others coloured pink, cream speckled …all so colourful.
In pots, outside the doors, Rhododendron viriosum is a dense shrub with clusters of deep red bell shaped flowers concealed among the shiny leaves. From Banks Walk flowers include Woollsia pungens [Section 174], a medium upright shrub, prolific with clusters of white flowers covering the tips of the branches. Beside is the Common heath, Victorias floral emblem, Epacris impressa [Section 174] which dangles its red tubular flowers in line from the branches. The Native fuchsia, Epacris longiflora [Section 174] is similar but with cream tubular flowers. Areas of Rhodanthe anthemoides [Section 174] are dense groundcovers with soft foliage and small reddish buds which will develop into small white daisy-like flowers. Thryptomene denticulata [Section 174] shows its low arching sprays of tiny pink flowers. Opposite, Prostanthera phylicifolia [Section 210] is a dense shrub clad with small mauve flowers, seen falling over the rocks. Rounding the garden curve, Grevillea 'Lady O'[Section 174] dangles its red spider-like flowers from branches of the small open shrubs while a wattle, Acacia aphylla [Section 174] is a leafless, shiny spiny branched shrub bearing single yellow flower balls.
Across the bridge, in the Ellis Rowan garden just past the café, Correa baeuerlenii [Section 131] is a dense hedge with shiny leaves, green tubular flowers and many calyces resembling chefs caps. Banksia 'Stumpy Gold'[Section 131] has a profusion of upright cylindrical flower spikes coloured gold to brown, according to age. Epacris longiflora [Section 131], has red tubular flowers with white tips, while Epacris 'Nectar Pink' [Section 131] has soft pink flowers with white tips. Hugging the trunk of a eucalyptus, Acacia alata var. biglandulosa [Section 240] has cream flower balls edging the angulated flattened stems of this unusual wattle. Down this path at the entrance to the Education Centre, Banksia 'Giant Candles'[Section 310] bears elongated golden flower spikes. Compare it with Banksia ericifolia var. ericifolia [Section 239] with shorter golden flower spikes. Grevillea diminuta [Section 239] nearby, is an ageing shrub displaying rust-red pendular flower clusters, the nectar now being enjoyed by the wattle birds.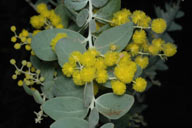 Acacia podalyriifolia
click for larger image
Returning, the scene along the left angular path where Acacia covenyi [Section 240] arches above the path with yellow fluffy flowers mixing with the blue foliage is so colourful. The path continues upwards to the grand old Pryor tree, Eucalyptus mannifera [Section 10] where below a long lateral branch, a patch of Thryptomene 'Pink Lace' [Section 10] is showy with a covering of tiny pink flowers over the small dense shrubs. Edging the left road, Grevillea 'Poorinda Diadem' [Section 127] is a dense shrub bearing apricot coloured spider-like flowers edging the branches. Further along Banksia spinulosa [Section 126] has prominent gold flower spikes ribbed with red stamens while nearby the Q'ld Silver wattle, Acacia podalyriifolia [Section 126] is now clad with its soft fluffy flower balls among the blue-grey foliage. Down, opposite the Rainfall Gully, Acacia siculiformis [Section 128] is an upright slim shrub covering its trunk with yellow buds and flowers. Grevillea rosmarinifolia 'Rosy Posy'[Section 128] in a group, has clusters of red-cream flowers on these small shrubs.

Pleasant walking … Many flowers … Barbara Daly