In Flower This Week
A weekly news sheet prepared by a Gardens' volunteer.
Numbers in square brackets [ ] refer to garden bed Sections. Plants in flower are in bold type.
View past issues of 'In Flower This Week'.
17 June 2011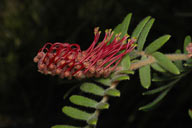 Grevillea caleyi
click for larger image
Banksias are brilliant throughout the gardens. Grevilleas and hakeas are also prominent. Many of these will be seen on this walk so, edging Banks Walk flowers include a mint bush, Prostanthera phylicifolia [Section 210] massed with mauve flowers on the shrub which falls down the rock wall. Rounding the road on the far side of the Rainforest verge Clerodendrum floribundum var. attenuatum [Section 125] is a tall shrub with light speckled trunk and among its upper foliage dark red button-size calyces with dark centres which followed its white flowers, can be seen. Opposite, Grevillea rosmarinifolia 'Rosy Posy' [Section 128] presents with dangling lemon-red flower clusters over the low shrubs. Turn right and see Banksia spinulosa [Section 126] which has long gold cylindrical flower spikes ribbed with red stamens on the dense shrub. At the far end of this road, Grevillea 'Poorinda Diadem' [Section 126] has apricot coloured spider-shaped flowers over the large shrub while, in front, the large branches of the grand old Pryor Tree Eucalyptus mannifera, is a grouping of Thryptomene 'Pink Lace'[Section 10] profuse with tiny pink flowers over the small shrubs.
Following the marked road, around the right curve Westringia brevifolia var. raleighii [Section 6] is a low dense shrub bearing many mauve flowers, while opposite a hedge of Correa alba var. alba [Section 7] bears white star flowers among the silver backed leaves. Take the small path to the right at the zebra crossing and then to the left beside Banksia ericifolia var. ericifolia [Section 30], large ageing shrubs bright with golden flower spikes. Follow this curvaceous path to the Main Path where Banksia integrifolia subsp. integrifolia [Section 30] is a spreading prostrate shrub bearing many upright lemon flower spikes. Banksias continue along this path at the end of which Grevillea lanigera [Section 25] bears pale pink-cream flowers over the semiprostrate plant.
Crossing the road where, in a pot, Isopogon asper [Section 24] is a small many branched plant interesting with small flat-headed pinkish flower heads appearing along the branches. Grevillea 'Lady O' [Section 26, 24] is a small shrub with arching branches laden with many buds and red flower clusters. Hakea cycloptera [Section 24] is pretty with pink-cream lacy flower clusters edging the stems of this upright shrub. Grevillea dielsiana [Section 26] is an upright open shrub attractive with orange-red flower clusters dangling among the fine foliage from the stems. Beside, on a long angular branch, Grevillea caleyi [Section 26] has soft hairy leaves and burgundy coloured toothbrush-shaped flowers. At the next road, to the right, Grevillea floribunda [Section 26] is an upright open shrub displaying its many pendent cinnamon coloured flowers.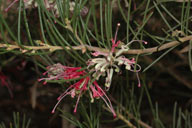 Hakea verrucosa
click for larger image
Returning to the Main Path, take the upper left path where many hakeas grow. Hakea orthorrhyncha var. filiformis [Section 21] is an open shrub of medium size with long fine leaves and small clusters of red flowers which seem to be attached along the woody branches. Further along, behind other shrubs, Hakea verrucosa [Section 21] is a medium rounded clad with large deep pink flowers having prominent long pink stamens. Hakea drupacea [Section 20] seen from the side path, is a large ageing shrub bright with a scattering of small cream ovoid flower clusters. Returning to the former path where Hakea cristata [Section 23] is a medium spreading shrub with flat prickly leaves and many cream buds maturing to white lacy flowers seen along the branches. The narrow leaved geebung, Persoonia linearis [Section 23] is a large spreading shrub with tiny yellow buds and flowers on the overhanging willowy branches. Always another flower to admire on the return path.
Another enjoyable walk … Barbara Daly.