In Flower This Week
A weekly news sheet prepared by a Gardens' volunteer.
Numbers in square brackets [ ] refer to garden bed Sections. Plants in flower are in bold type.
View past issues of 'In Flower This Week'.
10 June 2011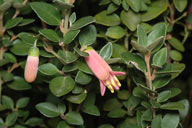 Correa pulchella 'Pink Mist'
click for larger image
Such bracing climate as this encourages a walk around and about the Rock Garden. To arrive there, after viewing the assortment of flowers along Banks Walk, follow the road on the far side of the Rainforest, turning right at the connection of the Main Path which connects to the Rock Garden waterfall. View Banksia aemula [Section 15c] a large dense shrub bearing lemon-green cylindrical flower spikes and at the corner Grevillea lanigera [Section 15c and elsewhere] which is a low spreading shrub pink with clusters of spider shaped flowers. Behind is a grouping of Gymea Lilies, Doryanthes excelsa [Section 15c,15d] with large sword shaped leaves and yet tight buds atop long upright stems. In front of the ponds below the waterfall, emu-bush, Eremophila latrobei subsp. latrobei [Section 15v] is an upright open shrub bearing cherry-red tube shaped flowers while beside is Eremophila dalyana [Section 15v] a rounded shrub with pale pink flowers among its grey foliage. There too, is Banksia 'Birthday Candles' [Section 15v] a dwarf dense shrub bright with its upright golden 'candle' shaped flower spikes. Across the road, Guichenotia ledifolia [Section 4] is a lovely rounded shrub with grey-green foliage and pink downturned flowers in profusion.
From the first small path to the left Correa pulchella 'Pink Mist' [Section 15s] displays its tubular flowers while below the rocks Dampiera salahae [Section 15s] is a prostrate spreading shrub bearing brilliant blue flowers. Following the path and around the corner Banksia' Cape Patterson Dwarf' [Section 15q] has stumpy lemon cylindrical flower spikes over the low spreading shrub. Now, finding a way around to section 15f (part of this section is closed today) Hypocalymma xanthopetalum [Section 15f] has an abundance of small feathery yellow flowers edging its low branches. Grevillea humifusa [Section 15g] is a semiprostrate plant with brilliant red short toothbrush-like flowers. Around the corner an area of Leptorhynchos nitidulus [Section 15g] is a dwarf herb with yellow flower heads on small upright stems next to a row of Micromyrtus ciliata [Section 15g] small shrubs clad with brick red buds which will mature to small white flowers.
Returning to the flight of stairs where Grevillea 'Mason's Hybrid' [Section 15h] is a large ageing shrub with long branches and many large terminal orange-lemon flower clusters. From the top road Rulingia luteiflora [Section 15h] is a shrub of medium size with branches clad with tiny yellow flowers, close to Grevillea iaspicula [Section 15h], a large open shrub laden with buds and pink-cream flower clusters. At the next corner Cryptandra sp. [Section 15h] is a small dense plant clad with tiny cream buds.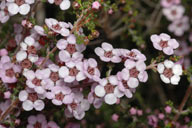 Baeckea crassifolia
click for larger image
Continue along this road past the grouping of grass trees, Xanthorrhoea johnsonii [Sections 15j,14] to the far downward stairs where Pincushion hakea, Hakea laurina [Section 20] reveals its globular burgundy coloured flower heads atop the tall open shrub. Return on the lower level of the section. Close to the corner small plants include Baeckea crassifolia [Section 14] profuse with tiny pink flowers and Thryptomene denticulata [Section 14], somewhat taller with arching branches of pink flowers. Eucalyptus pachyphylla [Section 14] is a small tree clad with yellow fluffy flowers. At the far end of this path, beside the seat Grevillea sp. [Section14] is an ageing prostrate shrub bearing letterbox red toothbrush-like flowers. Banksia integrifolia var. integrifolia [Section 15L] is a prostrate shrub covering the rockface with dense silver backed green leaves and cream flower spikes.
So, down the stairs to follow some path back to the café … Barbara Daly.