In Flower This Week
A weekly news sheet prepared by a Gardens' volunteer.
Numbers in square brackets [ ] refer to garden bed Sections. Plants in flower are in bold type.
View past issues of 'In Flower This Week'.
13 May 2011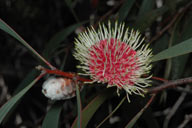 Hakea laurina
click for larger image
Flowering plants in pots outside the Visitors Information Centre include the colourful Blandfordia grandiflora with large orange and red bells on upright stems and Scaevola ramosissima with its mauve fan shaped flowers along branches trailing over the edges of the pots. This walk is to view the flowers in the Mallee Section which contains species of South and Western Australia seen above the Ducrou Pavilion. So, to arrive there, (see overleaf map) after viewing the flowering plants along Banks Walk, Guichenotia ledifolia [Section 4], in front of the Rock Garden waterfall, with downturned pink cup shaped flowers over a rounded shrub with grey-green foliage, a pincushion hakea, Hakea laurina [Section 20] with attractive globular red flowers on the tall open shrub and a wattle, Acacia parvipinnula [Section 18] a tall shrub with soft much divided leaves and perfumed cream fluffy flowers.
Following the road up from the Ducrou Pavilion, groundcovers include Chrysocephalum semiamplexicaule [Section 300] bright with small orange-yellow flower heads on long green stems, Grevillea lanigera [Section 300] bearing pink-cream spider-like flowers and Brachyscome 'Breakoday' [Section 300] with small mauve daisy-like flowers. Opposite, another groundcover, the endangered Button Wrinklewort, Rutidosis leptorhynchoides [Section 100b] bears small yellow flower heads.
At the entry to the mallee section at the corner to the road, Eremophila warnesii [Section 100b] is a semiprostrate plant with its few bare branches terminating with velvet-like leaves and a few large purple bugle-shaped flowers. Take the boardwalk in an anticlockwise direction Gastrolobium propinquum [Section 100b] has small yellow pea shaped flowers with red throat over this leaning shrub. Dampiera dysantha [Section 100a](10) is a small suckering herb displaying few deep blue flowers while, in the valley, Grevillea dielsiana [Section 100a] is an upright open shrub with fine divided leaves and attractive orange terminal flowers. Emu bush, Eremophila alternifolia [Section 100b] is a small open shrub with cream tubular flowers while nearby Lechenaultia biloba [Section 100b] displays its powder blue flowers above other shrubs. Thryptomene denticulata [Section 100b] is so attractive with its low arching branches clad with tiny pink flowers. Dampiera latealata [Section 100a] is a small upright plant with angular branches and with terminal deep blue flowers.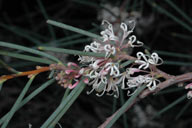 Hakea cycloptera
click for larger image
Continuing past the garden corner, Dampiera linearis [Section 100a] is a shorter open plant with paler blue flowers. Behind is Eremophila oppositifolia [Section 100a] an upright spreading shrub with many cream curved tubular flowers. Banksia epica [Section 100a] is colourful with many yellow upright cylindrical flower spikes. A wattle, Acacia aphylla [Section 100a] is an upright shrub with spiny cylindrical branches dotted with yellow flower heads. Dryandra quercifolia [Section 100a] is a large spreading shrub profuse with large yellow flower heads and juvenile yellow flowers surrounded by dark bracts. Hakea cycloptera [Section 100c] covers its branches of a large shrub with lovely lacy cream flowers while mixing with it, the Winged wattle, Acacia alata [Section 100c] is prolific with white flower balls. At the exit, Correa 'Kangaroo Island form' [Section 100a] is a compact small shrub colourful with red-cream tubular flowers. Opposite the exit, Banksia ericifolia [Section 103] is brilliant with many golden flower spikes.
………....Another interesting section of the gardens ……………….Barbara Daly.