In Flower This Week
A weekly news sheet prepared by a Gardens' volunteer.
Numbers in square brackets [ ] refer to garden bed Sections. Plants in flower are in bold type.
View past issues of 'In Flower This Week'.
6 May 2011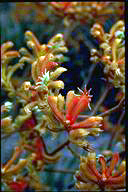 Anigozanthos 'King's Park Federation Flame'
click for larger image
Today we are going to visit the Rock Garden. Leave the Visitors' Information Centre and notice on the right Spyridium burragorang [Section 174] with its cream leafy bracts around reddish brown central flowers. Also on the right in a pot is the showy Anigozanthos rufus 'King's Park Federation Flame' [Section 174] with velvety red/orange flowers. Further along is the highly fragrant Woollsia pungens [Section 174] with clusters of white flowers. Also on the right are the bright pink tubular flowers of Epacris impressa [Section 174] clustered on upright stems. On the left is the long flowering Prostanthera phylicifolia [Section 210] tumbling over the rocks with its circles of mauve flowers.
Bear left past the rear of the café and up the hill noticing on the right the yellow flowers of Grevillea 'Goldfever' [Section 124] a long flowering locally developed cultivar from Bywong Nursery. Further up the hill on the right is Banksia spinulosa var. spinulosa [Section 109] a small tree covered in gold candles with deep red styles with new foliage shooting vigorously from the base. Turn right towards the Rock Garden. On the left is Banksia aemula [Section 15c] , a squat tree with wrinkled bark and pale yellow cones. Turn left up the steps to the Rock Garden.
Banksia integrifolia subsp. integrifolia [Section 15c] is on your left, an exuberant groundcover with scrambling vigorous foliage of dark green silver-backed leaves. The cones are fresh lemon yellow upright amongst the foliage. On the right is Correa 'Ivory Bells' [Section 15e], a grey green bush covered with many cream tubular flowers. On your right is Hibbertia serpyllifolia [Section 15f] with bright yellow flowers on a small neat bush. On your right is Rulingia luteiflora [Section 15f], an open bush covered in tiny yellow flowers. Continue up the steps past the beautiful Grevillea 'Mason's Hybrid' [Section 15h] with its airy spider blooms of orange and pink hanging over your head.
At the top of the steps under the Rock Garden sign is a free-flowering display of Grevillea lanigera [Section 15h] with its pink and cream flowers. Turn right along the road past the yellow daisies to see on your right Grevillea iaspicula [Section 15h] with bright green foliage and pink and cream flower drops. This plant is local and endangered. Turn right down into the Rock Garden again noticing on your right Muehlenbeckia axillaris [Section 15j] which is a creeping groundcover of tiny yellow star flowers. Continue down the hill where on your left there is a pot of Verticordia pennigera [Section 15r], a 'turner of hearts' as indicated by the genus name Verticordia, with pink fringed flowers. Behind it, also on the left, is Labichea lanceolata subsp. lanceolata [Section 15r] a medium bush with bright yellow pea flowers well displayed on the ends of the stems. Correa 'Cane's Hybrid' [Section 15s] forms an attractive neat bush covered in pink tubular flowers with greenish yellow tips.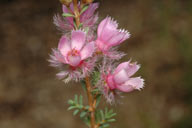 Verticordia pennigera
click for larger image
Opposite the waterfall on the left is Guichenotia ledifolia [Section 4] with dusky pink bells hanging from a grey bush in a delightful contrast of colours. Further along on the right is a cluster of four interesting eremophilas worth noting. Eremophila christopheri [Section 15v] has mauve tubes on an open bush. Eremophila oldfieldii subsp. angustifolia [Section 15v] has spiky bright green foliage with orange tubular flowers and Eremophila latrobei var. latrobei [Section 15v] has lipstick pink tubes on a sparse grey bush. The last eremophila to note is Eremophila dalyana [Section 15v] with soft pink tubes on soft grey foliage.
Continue down the hill towards the Visitor Information Centre.
Rosalind Walcott