In Flower This Week
A weekly news sheet prepared by a Gardens' volunteer.
Numbers in square brackets [ ] refer to garden bed Sections. Plants in flower are in bold type.
View past issues of 'In Flower This Week'.
22 April-5 May 2011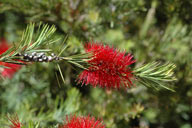 Callistemon subulatus
click for larger image
A walk along the curvaceous Main Path this time of the year is a pleasant experience. Flowers are plentiful which includes many banksias. However pots outside the Visitors Information Centre include the Christmas Bells, Blandfordia grandiflora so colourful with the large red and yellow bell shaped flowers on long upright stems. The walk commences at the far end of the café building where a wattle, Acacia alata var. biglandulosa [Section 240] which appears to have zig-zag shaped stems with small triangular leaves and cream flower balls. Opposite, a small gum tree, Corymbia ficifolia [Section 240] is spectacular bearing large clusters of red fluffy flowers.
Following the path Callistemon subulatus [Section 12] a shrub of medium size has vivid red bottlebrush-like flowers. Thryptomene denticulata [Section 9] is a dwarf plant with lateral arching branches clad with tiny pink flowers. The bed of daisies contains Chrysocephalum apiculatum [Section 303], a green suckering plant with clusters of small yellow flower heads. The heath-leaved banksia, Banksia ericifolia var.ericifolia [Section 30] is a grand old shrub displaying its long upright cylindrical golden flower spikes while opposite, Dryandra quercifolia [Section 30] is quite attractive with its large yellow flower heads and yellow buds surrounded by fine dark bracts among its oak-like leaves. Opposite, Banksia 'Birthday Candles' [Section 30] is a dwarf spreading shrub alight with its many golden flower spikes. Banksia integrifolia subsp. integrifolia [Section 30] has lemon flower spikes above this dense spreading prostrate plant. Grevillea 'Flame n' Beauty' [Section 25] is a graceful arching shrub with grey-green foliage and with pale cream-red terminal flowers.
Banksias continue along this path including Banksia spinulosa var. spinulosa [Section 27], yet a small shrub crowned with many gold flower spikes ribbed with dark stamens. Across the next road Grevillea caleyi [Section 26] with limb reaching to the road, has velvety divided leaves and deep crimson toothbrush-like flowers. Grevillea dielsiana [Section 26] is an erect open shrub with prickly leaves and with pendulous clusters of orange-red flowers.
The path meandering through the Sydney Region Gully. Crowea exalata [Section 191] has a coverage of pink star flowers over the medium dense shrub while mint bush, Prostanthera porcata [Section 191s,191u] displays its pink tube flowers in the open shrub. At the corner where the path leads to the hot houses, Scaevola albida [Section 191j] is a dense groundcover bearing many small mauve fan-shaped flowers. Behind the curved seat Crowea saligna [Section 191u] is a low spreading shrub displaying many large waxy pink flowers while in the newly remodelled area flannel flowers, Actinotus helianthi 'Federation Star' [Section 191u] shows its velvety daisy-like white flowers and waratah, Telopea speciosissima x oreades [Section 191u] has its renowned red flower heads atop long upright stems.
Crossing the Eucalyptus lawns and the acacia section, Hakea drupacea [Section 20] is a large open shrub with long needle foliage and dotted with small globular cream flowers. The Rock Garden has many flowers to admire which include Guichenotia ledifolia [Section 4] a dense shrub with grey foliage and mauve downturned flowers. On the other side of the attractive pools and waterfall, Grevillea lanigera [Section 15c] is a dense groundcover profuse with cherry-red flowers. Banksia aemula [Section 15c] is yellow with many flower spikes over the large dense shrub.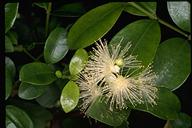 Syzygium australe
click for larger image
The Rainforest Gully is a cool pleasant area where, opposite the double seat, a Brush Cherry, Syzygium australe [Section 147] is a tall open shrub decorated with white fluffy flowers. Opposite the exit Rhododendron sp. [Section 313] with its lovely red bell shaped flowers, is almost concealed among other shrubs. Down the ramp a mint bush, Prostanthera phylicifolia [Section 210] is covered in profusion with small mauve flowers.
A pleasant autumn walk … Barbara Daly.