In Flower This Week
A weekly news sheet prepared by a Gardens' volunteer.
Numbers in square brackets [ ] refer to garden bed Sections. Plants in flower are in bold type.
View past issues of 'In Flower This Week'.
15 April 2011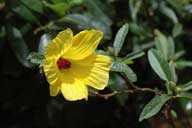 HIbiscus divaricatus
click for larger image
The magnificent display of the Christmas Bells, Blandfordia grandiflora with large flowers coloured red and yellow seen at the doors of the Visitors Information Centre is a welcome to the Botanic Art Exhibition inside. Edging Banks Walk, in pots, are Sturt's Desert Pea, Swainsona formosa with greyish divided leaves and dark centred red pea-shaped flowers along the trailing stems and kangaroo paw, Anigozanthos rufus 'Kings Park Federation Flame' with rust red 'paw' shaped flowers on long upright stems.
Banksias are now bearing many flower spikes which can be seen on this walk. Following the path on the far side of the Rainforest Gully, Grevillea 'Goldfever' [Section 124] has an abundance of apricot coloured flowers over this dense low spreading shrub. Opposite the Brittle Gum lawn [Section 109] Hibiscus divaricatus [Section 114] bears its large yellow flowers in sunshine but closes on dull days. Edging the lawn Banksia spinulosa [Section 109]is a large dense rounded shrub bearing many golden cylindrical upright flower spikes. The triangle garden contains Chamelaucium 'Cascade Brook'[Section 17] a shrub of medium size clad with many waxy pink flowers. Across the road Crowea 'Festival'[Section 123] is bright with an abundance of pink star flowers over the low spreading shrub.
Continuing along this road taking the next steps to the right where the Silver-leaved Mountain Gum, Eucalyptus pulverulenta [Section 36], an upright branch with the silvery grey almost rounded leaves seem to be attached to the branch. The many buds will mature to white fluffy flowers. Beside is a Showy banksia, Banksia speciosa [Section 36] a large dense shrub attractive with many grey-green acorn shaped flower spikes. The leaves are dull long narrow deeply indented silver backed. Today the New Holland honey eaters are enjoying the nectar of this and other banksias. Along this upper path is the Fern-leaved banksia, Banksia oblongifolia [Section 36] a medium sized shrub with small greenish buds and darker mature flower spikes. Banksia media [Section 36] is a low, misshapen dense shrub displaying its cinnamon, more compact flower spikes. The corner opposite the covered shelter is covered with a dense groundcover, Grevillea 'Wakiti Gem' [Section 36] bearing dark red toothbrush-like flowers.
Beside the upward stairs Banksia marginata [Section 36] is a tall dense shrub yellow with flower spikes. Hakea drupacea [Section 36] is a tall open shrub profuse with small rounded lacy flower balls while, in front of the seat, Grevillea aspera [Section 36] is interesting with its cluster of bright red-yellow pendular flowers on this open shrub. Along the path to the left is a group of waratahs, Telopea mongaensis [Section 36] with out-of-season inferior red flower heads. Behind and tall, Hakea francisiana [Section 36] continues to display one cluster of lovely cherry red poker shaped flowers.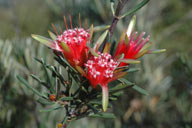 Lambertia formosa
click for larger image
Returning down the stairs where Mountain devil, Lambertia formosa [Section 37] bears its few tube shaped red flowers. At the bottom behind the covered shelter, the Marsh banksia Banksia paludosa [Section 37] is a compact spreading shrub with lime coloured flower spikes that have tan coloured anthers. Following the path to the left Banksia spinulosa var. collina [Section 37] is large and dense with gold flower spikes followed by Banksia integrifolia var. monticola [Section 37] with differing foliage and pale yellow shorter flower spikes. Many other banksias grow in these sections.
By following the zig-zag path downwards, Grevillea lanigera [Section 15h] is prolific with red-cream spider shaped flowers over this groundcover above which Grevillea 'Mason's Hybrid' [Section 15h], an ageing tall shrub displays its large terminal pink-cream flower heads are an entry to the Rock Garden. Continue downhill to the café building.
Cool climate, many flowers … Barbara Daly.