In Flower This Week
A weekly news sheet prepared by a Gardens' volunteer.
Numbers in square brackets [ ] refer to garden bed Sections. Plants in flower are in bold type.
View past issues of 'In Flower This Week'.
8 April 2011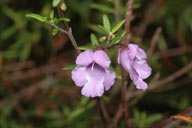 Prostanthera phylicifolia
click for larger image
Inside the Visitors Information Centre a wall of orchids, so colourful, so bright and so interesting and is forever changing. This walk will conclude in the display glasshouse which houses other orchids. To arrive there many other plants can be viewed. Flowers edging Banks Walk include Sturt's Desert Pea, Swainsona formosa [Section 174 in a pot] a trailing plant with greyish divided leaves and now with dusky red buds which will mature to those renowned bright red with dark throat pea-shaped flowers. Also in a pot, a kangaroo paw, Anigozanthos rufus 'Kings Park Federation Flame' [Section 174] displaying its attractive rust red 'paw' flowers on long upright stems surrounded by low strappy leaves. Opposite, a mint bush, Prostanthera phylicifolia [Section 210] flows down the rockface. It is a dense shrub profuse with deep mauve flowers.
Following the road on the far side of the Rainforest Gully, Clerodendrum floribundum var. attenuatum [Section 125] is a tall upright shrub with thin spotted trunk. Among its foliage can be seen the smooth scarlet calyx which surround the, now green fruit. White tubular flowers persisted beforehand. Across the road, at the corner, a wattle, Acacia fauntleroyi [Section 128] is a tall slim shrub with interesting hairy trunk, fine leaves and dotted with yellow flower balls. Further along, Grevillea 'Goldfever' [Section 124] is a small spreading dense shrub bearing clusters of apricot coloured flowers. On the far side of the Brittle Gum lawn, beside the seat, Hibiscus pedunculatus [Section 109] is a dense spreading shrub brightened with its lovely pink flowers. Close by is Grevillea 'Robyn Gordon'[Section 109], a low spreading shrub with much divided leaves and large red terminal flower clusters.
Crossing the next road an emu bush, Eremophila microtheca [Section 7] is a soft upright shrub profuse with small mauve tubular flowers. Edging this road, Correa alba var. alba [Section 7] is a dense shrub with grey-green foliage and white star flowers. The path down at the zebra crossing passes Banksia 'Giant Candles' [Section 30] a large spreading shrub dazzling with long upright cylindrical golden flower spikes. The Main Path to the left then passes Banksia ericifolia var. ericifolia [Section 30] with shorter golden flower spikes. Almost opposite, Dryandra quercifolia [Section 30] is quite impressive with its large floral yellow heads and yellow buds surrounded by fine dark bracts, all among its oak-like leaves. Banksia 'Birthday Candles'[Section 30] is a spreading dwarf shrub beautified with many upright golden flower spikes.
Follow the path turning to the left at the end of the next section. This road then edges the Sydney Basin. At the base of a group of white trunked Eucalyptus mannifera is a group of Correa 'Canberra Bells' [Section 112], small shrubs attractive with the red and yellow bell shaped flowers. At the next corner Scaevola ramosissima [Section 191h] displays its purple fan-shaped flowers along its prostrate branches. Opposite the Eucalyptus Lawn with its variety of trees, a grouping of banksias which include Banksia aemula [Section 191g] an upright shrub with cream and ageing brown flower spikes. The next right path leads to the well-signed glasshouse, passing a corner of out-of-season waratahs, Telopea mongaensis x Telopea speciosissima [Section 191d] featuring its renowned red flower atop upright stems.
Scaevola ramosissima
click for larger image
This glasshouse displays the 'SEX AND DEATH IN THE GLASSHOUSE' exhibition of exotic and native orchids, carnivorous and tropical plants [Section 301]. The Rhynchostylis relusa orchid with many long roots and long strappy leaves is magnificent with its pendular stems of tiny pink and mauve flowers. Carnivorous plants include fly traps, pitcher plants which trap and digest insects, fossils from the Jurassic period and the many tropical plants. All in a warm humid environment, and a great place to visit.
Interesting place, these Gardens … Barbara Daly.