In Flower This Week
A weekly news sheet prepared by a Gardens' volunteer.
Numbers in square brackets [ ] refer to garden bed Sections. Plants in flower are in bold type.
View past issues of 'In Flower This Week'.
1 April 2011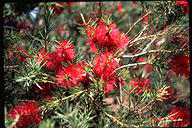 Callistemon subulatus
click for larger image
This walk is to follow the Main Path commencing at the far end of the Café building. But first, there are many flowers edging Banks Walk including the kangaroo paw in a pot, Anigozanthos rufus 'Kings Park Federation Flame' [Section 174], tall and attractive with rust red 'paw' flowers on long upright stems surrounded by low strappy leaves. Outside the café building Backhousia citriodora [Section 240] is a tall slim plant with terminal clusters of lemon flowers. Now flowering are bottlebrushes and banksias, many of which are bearing many immature flower spikes.
Following the Main Path Callistemon subulatus [Section 12] is of medium size dense with vivid red bottlebrush-like flowers. Callistemon chisholmii [Section 11,10] is a tall upright shrub with short pale pink bottlebrushes along the arching branches. Thryptomene denticulata [Section 11] is a small shrub laden with tiny pink flowers along its arching branches. In the garden of daisies, Chrysocephalum apiculatum [Section 303](5) has clusters of small yellow flower heads on this green suckering plant.
Heath-leaved banksia, Banksia ericifolia var. ericifolia [Section 30] is a large spreading shrub displaying its many upright cylindrical golden flower spikes. Banksia 'Birthday Candles' [Section 30] is a dwarf spreading shrub clad with its golden flower spikes. Banksia integrifolia subsp. integrifolia [Section 30] is a dense spreading groundcover displaying its many short upright lemon flower spikes. Banksia spinulosa [Section 27] is gold with a profusion of flower spikes on this small shrub.
Across the road Banksia conferta subsp. penicillata, Newnes Plateau Banksia [Section 26] is a large many branched ageing shrub laden with many dark spent spikes and mature lime coloured flower spikes loved by many New Holland honeyeaters. Grevillea dielsiana [Section 26] is an erect open shrub with prickly leaves decorated with pendulous clusters of orange-red flowers.
Across the next road, now among the attractive white tree trunks, Correa 'Canberra Bells' [Section 112] on both sides of the path, are small shrubs displaying the attractive red and yellow bells. This shrub has been selected to commemorate Canberra's centenary, 1913-2013. The path then winds through the Sydney Region Gully. Crowea exalata [Section 191h] is a small dense shrub clad with pink star shaped flowers. In the curved look-down a rockface exposes fern fossils of 65 million age. At the cross roads to the hot-houses, Scaevola albida [Section 191j] is a dense groundcover bearing many small mauve fan-shaped flowers. Opposite, an out-of-season waratah, Telopea mongaensis xTelopea speciosissima [Section 191d] displays its renowned red flower atop upright stem, seen again at the remodelled area at the exit of this section. At the round seat, flannel flower, Actinotus helianthi [Section 191u] is a small upright plant displaying its white velvety daisy-like flowers surrounded by its divided velvety foliage, again, seen at the section exit. Behind the seat Crowea saligna [Section 191u] is a low spreading shrub colourful with many deep pink star shaped flowers.
Crossing the Eucalyptus Lawn down to the Rock Garden, a place of many flowers, an emu bush, Eremophila latrobei var. latrobei [Section 15v] is an upright open shrub with cherry-red curved flowers.
Time to sit and enjoy the beauty of the waterfall, the ponds and plants with choruses of birds and frogs … so relaxing. To continue, Banksia aemula [Section 15c] is a large dense shrub with flower spikes of all ages from fresh lemon to spent grey.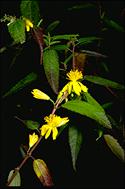 Corchorus cunninghamii
click for larger image
Across the bridge in the Rainforest Gully, Native jute, Corchorus cunninghamii [Section 64] is a small upright plant with prominent yellow petalled flowers. At the exit and down the ramp Prostanthera phylicifolia [Section 210] is a dense shrub clad, in profusion with small mauve flowers.
Pleasant walking … Barbara Daly.