In Flower This Week
A weekly news sheet prepared by a Gardens' volunteer.
Numbers in square brackets [ ] refer to garden bed Sections. Plants in flower are in bold type.
View past issues of 'In Flower This Week'.
25 March 2011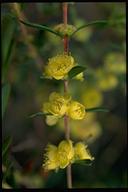 Hypocalymma xanthopetalum
click for larger image
The orchid display in the Visitor Information Centre is continuously changing and is forever colourful. Flowering plants along Banks Walk are also worth admiring as are those up in the Rock Garden. To arrive there follow the road on the far side of the Rainforest turning right at the connection of the Main Path which will reach the Rock Garden waterfall.
In a clockwise direction is the Gymea Lily, Doryanthes excelsa [Section 15c,15d] with large sword shaped leaves and long upright stems with yet tight buds. Banksia integrifolia subsp. integrifolia [Section 15c] edging the path, so dense with silver backed leaves and many pencil thin green juvenile flower spikes mix with those more mature lemon flower spikes on this dwarf shrub. Opposite Grevillea 'Poorinda Royal Mantle' [Section 15d] with deep red toothbrush shaped flower spikes over this dense ground cover cascades over the rocks down to the pools below. The small upright plant, Dampiera salahae [Section 15d] with blue flowers, is beside the large Correa 'Ivory Bells' [Section 15d] with many bell shaped flowers while on the other side Banksia 'Honeypots' [Section 15d] is a dwarf fairly upright shrub displaying its cylindrical upright honey coloured flower spikes. Seen between the rock edges Brachyscome multifida [Section 15d], yet small with soft divided leaves and bright with pink-mauve daisy-like flowers.
Behind these rocks Dampiera stricta [Section 15f], a suckering plant, displays its blue flowers on upright stems while between other rocks Hypocalymma xanthopetalum [Section 15f] is pretty with tiny feathery yellow flowers among its foliage. Almost opposite, growing on the garden slope, Halgania cyanea [Section 15g] is a small open shrub clad with deep blue flowers. Allocasuarina rigida subsp. rigida [Section 15a] is quite spectacular with its coverage of small rust coloured flower spikes over the tall shrubs. At the base of the stairs Plectranthus graveolens [Section 15a] is a herbaceous plant with large felt-like leaves and prominent spikes of pale blue flowers which mix with Westringia glabra [Section 15a] a dense shrub speckled with small pink flowers. From here, edging the stairs, the large shrub, Grevillea 'Mason's Hybrid'[Section 15h] displays its large terminal pink-cream flower spikes on its ageing spreading shrub. At the top corner Grevillea lanigera [Section 15h] is a dense groundcover bearing pink-cream spider-like flowers.
Edging this road are self-seeding yellow straw flowers, Xerochrysum bracteatum [Section 15h]. Scaevola albida var. albida [Section 15h] a semi-prostrate dense plant clad with both mauve and white fan-shaped flowers. There too, is Dampiera sylvestris [Section 15h], a suckering upright plant displaying its attractive blue flowers. An emu bush, Eremophila youngii [Section 15j] is clad with grey-green narrow foliage brightened with rather hairy red tubular flowers, leans towards the road.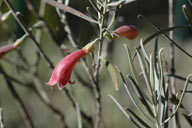 Eremophila youngii
click for larger image
Following the path down between the grass trees, Xanthorrhoea johnsonii [Section 15 and 14] and then beside Banksia integrifolia [Section l] beside which is Banksia 'Birthday Candles' [Section l] a dwarf spreading shrub laden with juvenile green flower spikes. Continuing down Verticordia pennigera [Section 15r] in a pot, is a small shrub bearing tiny pink feathery flowers. Eremophila bignoniiflora x polyclada [Section 15r], another emubush, has white bugle shaped flowers with a speckled throat on this medium size shrub while at the bottom of the stairs Correa 'Cane's Hybrid'[Section 15s] a dense shrub bearing pink and greenish tubular flowers. In front of the ponds, Callistemon recurvus [Section 4] is a tall graceful shrub displaying its red bottlebrush flowers on arching branches.
Time now to sit, relax and enjoy the surrounds of the ponds the waterfall and listen to the calls of the birdlife … Barbara Daly.