In Flower This Week
A weekly news sheet prepared by a Gardens' volunteer.
Numbers in square brackets [ ] refer to garden bed Sections. Plants in flower are in bold type.
View past issues of 'In Flower This Week'.
18 March 2011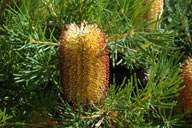 Banksia spinulosa ' Birthday Candles'
click for larger image
The orchid display inside the Visitors Information Centre continues to be fascinating. They include orchids from South Africa, and New Guinea. Flowering plants seen along Banks Walk include Banksia 'Birthday Candles' [Section 172] a dwarf, yet small shrub bearing many lemon, maturing to gold, upright cylindrical flower spikes. (Most banksias throughout the gardens, are now producing their new flower spikes.) Behind a notice board Scaevola aemula 'Aussie Crawl' [Section 174] is attractive with a coverage of purple fan-shaped flowers over the small mounded shrub while Goodenia heterophylla [Section 174] is a prostrate plant with small yellow flowers along its trailing stems. In a pot, a kangaroo paw Anigozanthos rufus 'Kings Park Federation Flame' [174] with burnt red stems and 'paw' flowers rise above the short strappy leaves. Behind the seat Lechenaultia biloba [Section 174] is a small perennial bearing powder blue flowers on upright stems while beside is Epacris impressa [Section 174] a tall upright shrub colouring its stems with clusters of pink tube shaped flowers. Correa 'Canberra Bells' [Section 174, also in 119 and elsewhere] is a small open shrub attractive with tubular red flowers with yellow mouth. It has been selected to commemorate Canberra's centenary, 1913-2013. Across the road a mint bush, Prostanthera phylicifolia [Section 210] is a dense shrub, falling down the rocks, profuse with pink flowers. At the bridge entry another pot is colourful with Scaevola ramosissima with branches clad with purple fan shaped flowers.
Take the path on the far side of the Rainforest. Clerodendron floribundrum var. attenuatum [Section 125] is a tall slender shrub with cream speckled trunk. Among the foliage are interesting fruits with black rounded centre surrounded by dark red furry calyx. Across the road a corner is covered with Grevillea 'Poorinda Royal Mantle' [Section 124], a groundcover, with dark red toothbrush-like flowers among the foliage. Opposite is Banksia spinulosa [Section 126] a dense shrub with many gold maturing flower spikes. A vine, Pandorea jasminoides [Section 124] curls itself around an upright tree trunk displaying few dark centred pink trumpet shaped flowers. At the end of the road, Scaevola albida [Section 124] is another groundcover, also dense with a profusion of tiny pink fan shaped flowers.
Opposite is the Pryor tree, Eucalyptus mannifera [Section 10] magnificent with large grey-white trunk and limbs. Below a limb is Thryptomene 'Pink Lace' [Section 10] a small shrub with lateral branches clad with tiny pink flowers. In front is Hypocalymma angustifolium [Section 10] a small rounded shrub with tiny pink lacy flowers edging the stems. Edging the upper road, below other upright shrubs, Correa sp. [Section 119] is low and spreading with an abundance of red tube shaped flowers with lime coloured mouth and extended stamens. Past the blue pipes Goodenia ovata [Section 117] has long low spreading branches clad with yellow flowers.
At the next corner across the road, an emu bush, Eremophila microtheca [Section 7] is a many branched upright shrub bearing many small mauve bugle shaped flowers among the fine foliage. The corner to the Brittle Gum lawn is clad with Correa alba var. alba [Section 124] dense and rounded with silver edge leaves and white star shaped flowers. Edging the upper side of the Brittle Gum lawn Grevillea 'Robyn Gordon' [Section 109] is a low spreading shrub with divided leaves and terminal red-cream flower spikes, a most attractive shrub. Behind the seat Hibiscus pedunculatus [Section 109] seen among other shrubs revealing its showy pink flowers.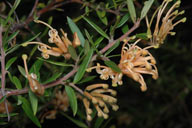 Grevillea 'Goldfever'
click for larger image
Return down edging the Rainforest Gully. Grevillea 'Goldfever' [Section 124] is a neat dense shrub clad with apricot coloured flowers.
Such pleasant walking, these autumn days … Barbara Daly