In Flower This Week
A weekly news sheet prepared by a Gardens' volunteer.
Numbers in square brackets [ ] refer to garden bed Sections. Plants in flower are in bold type.
View past issues of 'In Flower This Week'.
4 March 2011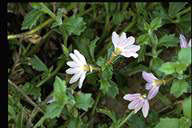 Scaevola albida
click for larger imag
e
This walk follows the Main Path which wanders through areas of the lovely gum trees, the Sydney Basin Flora, the Rock Garden and the Rainforest. There are many flowers between The Visitors Information Centre where orchids from many countries can be seen, to the Ellis Rowan Garden from where this walk commences.
Bottlebrush, Callistemon viminalis [Section 310](1) is a large many branched tree with dark indented bark and a tall canopy with weeping foliage bright with dark red flowers. Pass below the canopy of paperbarks to a grouping of emu bushes where Eremophila bowmanii subsp. bowmanii [Section 302](2) a small shrub clad with many bright pink bugle shaped flowers. Almost opposite. Olearia ramulosa var. stricta [Section 303](3) is covered with mauve daily-like flowers. The section of daisies also include the bright button-like yellow and orange Chrysocephalum apiculatum [Section 303](4) while opposite Calostemma luteum [Section 8](5) displays its lemon terminal flower displays on long upright stems.
Grevillea phanerophlebia [Section 30](5) in the background, is quite a large many branched shrub with sharp divided leaves and showered with white lacy flowers. Close to the path, Banksia 'Birthday Candles' [Section 30](6) is a dense dwarf spreading shrub profuse with immature greenish-gold flower spikes. Close by is Grevillea 'Coconut Ice' [Section 30](7) has large terminal lemon-red flower clusters on this medium size shrub.
Across the road Banksia conferta subsp. penicillata [Section 26](8) is a large ageing shrub clad with dark spent and many immature lime coloured flower spikes (as do, at present, most banksias). Grevillea dielsiana [Section 26](9) has orange toned toothbrush-like flower clusters dangling from its branches of this upright open shrub.
Across this next road the corner has Crowea exalata [Section 112](10) small dense shrubs bearing small pink star shaped flowers. Edging this path, Correa 'Canberra Bells' [Section 112](11), beautifully clad with bell shaped red and yellow tube shaped flowers. This shrub is selected to commemorate Canberra's centenary, 1913-2013.
Wander through the gardens with graceful trees displaying their white trunks to the Sydney Basin where kookaburras laugh, the crimson rosellas chortle and small birds scratch among the leaf litter. See mint bush, Prostanthera porcata [Section 191s](12) a small open shrub bearing pink tube shaped flowers. Cryptandra ericoides [Section 191g](13), low and graceful with lateral branches clad with tiny white flowers, Hibbertia pedunculata [Section 191j](14), a dense groundcover dotted with bright yellow open flowers and Scaevola albida [Section 191j](15) a semi-prostrate plant with mauve fan-shaped flowers. The opposite corner has an out-of-season flowering waratah, Telopea mongaensis x speciosissima [Section 191d](16) showing its remarkable terminal red flower head and two buds, too. Geebung, Persoonia acerosa [Section 191l](17) has branches clad with pine-like foliage and tiny yellow tube shaped flowers while behind the circular seat Crowea saligna [Section 191u](18) displays its wax-like large pink petalled flowers over the low spreading shrub. At the exit are flannel flowers, Actinotus helianthi [Section 191l](19) showing off its renowned white many petalled flowers among the velvet greyish leaves.
Cross the Eucalyptus Lawn down to the Rock Garden passing the very large blackwood wattle, Acacia melanoxylon [Section 21](20) clad with strongly perfumed lemon fluffy flower balls. Dampiera salahae [Section 15r](21) is a small plant bearing blue flowers while the wandering jew, Commelina cyanea [Section 15r](22) is a small groundcover with trailing stems with terminal darker blue flowers and Goodenia macmillanii [Section 15r](23), also small with trailing stems with pale pink flowers. In front of the waterfall, Lythrum salicaria [Section 15q](24) is colourful with tall branches of pink flowers.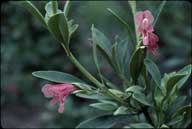 Prostanthera porcata
click for larger image
Cross the road where Backhousia citriodora [Section 78](25) is tall and well covered with cream floral clusters. Then wander through the pleasant Rainforest, with its variable shades of green foliage down the ramp to the Information Centre.
Pleasant walking … Barbara Daly.