In Flower This Week
A weekly news sheet prepared by a Gardens' volunteer.
Numbers in square brackets [ ] refer to garden bed Sections. Plants in flower are in bold type.
View past issues of 'In Flower This Week'.
18 February 2011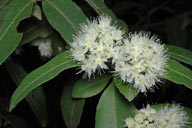 Backhousia citriodora
click for larger image
Orchids in the Visitors Information Centre are colourful and varied, originating in numerous Asian countries. Flowers along Banks Walk, too, are colourful. However this walk is to view the flowers in the Mallee Section which contains species of South and Western Australia seen above the Ducrou Pavilion. To arrive there, (see overleaf map), from which Swamp lily, Crinum pedunculatum [Section 125] a large bulbous plant with many succulent leaves and long stems with sprays of fine long white petalled flowers can be seen. Conjevoi lily, Alocasia brisbanensis [Section 125] has long fleshy stems with lily-like green-cream flowers surrounded by large spade-like 'elephant ear' leaves. At the corner with the Main Path Backhousia citriodora [Section 78] is a tall slim shrub well covered with perfumed globular clusters of cream flowers.
Following the road up from the Ducrou Pavilion, groundcovers include Chrysocephalum semiamplexicaule [Section 300] with green foliage and clusters of small orange-yellow flower heads, Grevillea lanigera [Section 300] with pink-cream spider-like flowers and Brachyscome 'Breakoday' [Section 300] with small daisy-like mauve flowers.
Opposite, a patch of Rutidosis sp. [Section 100b] is a dense groundcover bearing yellow daisy-like flowers. Entering the mallee section at the corner of the road, emu bush Eremophila warnesii [Section 100b] is a semiprostrate plant with its few bare branches terminating with velvet-like leaves with a large purple bugle-shaped flower. Take the boardwalk in an anticlockwise direction, Prostanthera aspalathoides [Section 100b] is a small upright plant displaying slim tube shaped cerise coloured flowers. Gastrolobium propinquum [Section 100b] has small yellow pea shaped flowers with red throat over the rounded shrub while an emu bush, Eremophila racemosa [Section 100b] is yet a small shrub bearing tubular cerise coloured flowers. The buds are of an orange colour. Lechenaultia biloba [Section 100a,b], small wispy plants have attractive small powder blue flowers. Thryptomene denticulata [Section 100b], a many branched shrub has tiny pink flowers in profusion while Gossypium sturtianum, Sturt's Desert Rose [Section 100b] is a large open shrub with few purple hibiscus flowers among the many spent flowers. Rounding the curve, the red flowering gum, Corymbia ficifolia [Section 100c] is a small tree with terminal branches magnificent, with brick red floral clusters. Opposite, Thomasia petalocalyx [Section 100a] is a dense spreading shrub spotted with downturned pink flowers. Verticordia monadelpha [Section 100a] bears tiny pink woolly flowers on this many branched shrub. Opposite, Regelia inops [Section 100c] is an open stiff shrub with tiny leaves hugging the stems and terminal clusters of mauve flowers, while at the end of the boardwalk, Lambertia ericifolia [Section 100c] is a many-branched tall shrub bright with well-designed orange tube shaped flowers.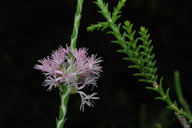 Regelia inops
click for larger image
NSW Christmas bush, Ceratopetalum gummiferum, [Section 103] can be viewed from the end of the bridge at the right. The small bush is clad with the lovely red calyces which appeared after the small white flowers.
Returning by the Rock Garden, worth viewing is Angophora melanoxylon [Section 4] which is a tall open many branched shrub bright with clusters of cream fluffy flowers.
Interesting part of the Gardens … Barbara Daly.