In Flower This Week
A weekly news sheet prepared by a Gardens' volunteer.
Numbers in square brackets [ ] refer to garden bed Sections. Plants in flower are in bold type.
View past issues of 'In Flower This Week'.
11 February 2011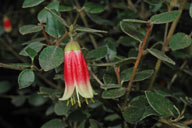 Correa 'Canberra Bells'
click for larger image
The selection of orchids inside the Visitors Information Centre are colourful and varied. They originate from Asian countries as well as from Australia. Edging Banks Walk Old Man Banksia, Banksia serrata [Section 174] is quite a tall shrub showing off numerous grey-green upright cylindrical flower spikes among the dark green foliage, seen behind Sir Joseph Banks sculpture. Correa 'Canberra Bells' [Section 174] is a small open shrub with pendular red tubular flowers with lemon mouth. This small shrub can be seen in other sections of the gardens and is selected to commemorate Canberra's Centenary, 1913-2013. At the far end of this section, Scaevola phlebopetala [Section 174] drapes its stems with deep purple fan-shaped flowers, over the edge of the pot. This corner is brilliant with the small yellow and orange flower balls of Chrysocephalum semiamplexicaule [Section 174] blending with the red flowers of Grevillea 'Lady O' [Section 174]. Around the corner a small gum tree, Corymbia ficifolia [Section 174] is well covered with orange toned fluffy flowers in large clusters.
Following the road on the far side of the Rainforest, Conjevoi lily, Alocasia brisbanensis [Section 125] is a fleshy herb with long 'elephant ear' spade like leaves surrounding a long stem with a lily-like cream-green flower. These are repeated edging this road. Swamp lily, Crinum pedunculatum [Section 125] is a large bulbous plant with many succulent leaves and long stems with sprays of fine long white petalled flowers, also repeated edging this road. Covering this corner, Grevillea 'Poorinda Royal Mantle' [Section 124] is a dense groundcover profuse with dark red toothbrush-like flowers. Opposite, Correa alba [Section 126] is a hedge of medium size bearing white star-shaped flowers. Over the road Grevillea 'Goldfever'[Section 124] is a low spreading shrub bearing apricot coloured flowers while Scaevola albida [Section 124] has deep mauve fan-shaped flowers scattered throughout this dense groundcover.
Towards the Rock Garden, joining the Main Path, Lysiosepalum involucratum [Section 4] is clad with rust coloured buds and small deep pink flowers over the dense shrubs while, around the corner a bottlebrush, Callistemon recurvus [Section 4] is tall and gracefully bearing short red bottlebrush-like flowers. Lythrum salicaria [Section 15q] with its upright branches clad with pink flowers, adds extra colour to the waterfall environment, as do the water- dragons of all ages add extra interest. The Common Brown butterflies too, are numerous while the tiny blue fairy wrens are seen on the paths or on the leaf litter.
Continue along the Main Path to the Sydney Basin taking the road to the left to a work depot and so to the 'SEX AND DEATH IN THE GLASSHOUSE' exhibition of exotic and native orchids, carnivorous and tropical plants. [Section 301] Enter this warm, humid environment. Orchids from Burma and Thailand and New Guinea, all so intriguing and colourful.
Carnivorous plants include fly traps, pitcher plants which trap and digest insects, occasionally large enough to trap frogs and mice … they, the traps are really big … then there are fossils from the Jurassic period and not to be missed, the large array of tropical plants including a banana tree … a wonderous place to visit.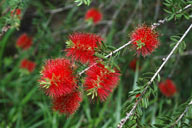 Callistemon recurvus
click for larger image
Then outside, continuing left and entering the Sydney Basin on the small right path along which, maybe a Christmas Bell, Blandfordia grandiflora [Section 191c] with large bell shaped red and yellow flowers on upright stems. Through this relaxing bushland the attractive reddish calyces resembling flowers of the Christmas Bushes, Ceratopetalum gummiferum [Section 191t] can be seen. At the circular seating the yellow flowers of Blandfordia grandiflora [Section 191u] can be viewed. Leaving the Sydney Basin Flora, Flannel flowers, Actinotus helianthi [Section 191L] with their velvety foliage and large white flannel flowers grow.
A most pleasant and interesting walk … Barbara Daly.