In Flower This Week
A weekly news sheet prepared by a Gardens' volunteer.
Numbers in square brackets [ ] refer to garden bed Sections. Plants in flower are in bold type.
View past issues of 'In Flower This Week'.
4 February 2011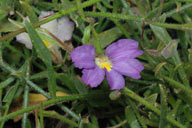 Scaevola phlebopetala
click for larger image
Inside the Visitors Information Centre there is a selection of orchids from other countries. They include the white flowering orchid of Dendrobium sanderae from the Phillipines, the orange flowering orchid, Ascocentrum ampullaceum, from the Himalayas, the scarlet orchid, Dendrobium secundrum from S.E. Asia and others.
From Banksia walk, Old Man Banksia, Banksia serrata [Section 174] displays its large cylindrical upright flower spikes shaded grey-green among the foliage of this tall shrub behind the sculpture of Sir Joseph Banks. Behind the notice about 'Flower Power', Scaevola 'Aussie Crawl' [Section 174] is a neat small plant clad with deep blue fan-shaped flowers. At the far end of this section, Scaevola phlebopetala [Section 174] has deep purple flowers on long stems falling over the side of the pot. In between, in a pot, Sturt's Desert Pea, Swainsona formosa [Section 174] continues to bear few of its popular large red, with dark centre, pea-shaped flowers. Kangaroo paws are not as fresh however Anigozanthos 'Kings Park Federation Flame'[Section 174] in a pot, bears 'paw' shaped flowers with orange-green tonings on long stems and Anigozanthos 'Bush Dawn' [Section 210] is brighter with red -green tonings. Above, covering a small tree, the brilliance of the orange-red fluffy flower clusters of Corymbia ficifolia (Dwarf Orange), [Section 210] is worth admiring. Almost opposite Correa 'Canberra Bells'[Section 174] is a small open shrub decorated with pendular red tubular flowers with lemon mouth. (This plant is selected to commemorate Canberra's Centenary, 1913-2013). Hibbertia vestita [Section 210] is a dense ground-cover brightened with yellow open flowers. Close by Lechenaultia biloba [Section 174] has a coverage of powder-blue flowers over this small shrub while at the corner of this section, a group of Grevillea 'Lady O'[Section 174] small open shrubs with vivid red short toothbrush-like flowers mix with the bright yellow and orange button flowers in clusters of Chrysocephalum semiamplexicaule [Section 174].
Following the road along the far side of the Rainforest, Conjevoi lily, Alocasia brisbanensis [Section 125, 146] has large spade-shaped leaves resembling elephant ears, surrounding a long stem with a lily-like cream-green flower. Swamp lily, Crinum pedunculatum [Section 125] also seen edging the road, is a large bulbous plant with many long succulent leaves and long stems with sprays of fine long white petalled flowers. On the opposite side of the road Grevillea 'Goldfever'[Section 124] is a low spreading shrub with a profusion of apricot coloured flowers.
From opposite the Brittle Gum Lawn numerous hibiscus shrubs edge the road beside the Rainforest Gully. Hibiscus heterophyllus [Section 114,104] is a tall open shrub with prominent large open flowers coloured white with a splash of pink. Not so apparent, Hibiscus divaricatus [Section 114] has few yellow flowers and many buds while Hibiscus splendens hybrid [Section 104] is a smaller dense shrub with thorny stems, velvet leaves and bright cherry coloured flowers. This plant is seen opposite section 17 where a blending of colours of kangaroo paws, Anigozanthos 'Bush Baby' [Section 17] with yellow flowers, Anigozanthos 'Bush Ruby' with deep red shades and Anigozanthos 'Bush Haze' with yellow-green shades.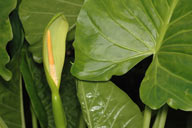 Alocasia brisbanensis
click for larger image
Enter the Rainforest Gully by the left hand path. Follow the gully on the far side, appreciate the coolness, the shades and shapes of green of the variety of plants. At the junction of the Main Path and the downward stairs, Dorrego Waratah, Alloxylon pinnatum [Section 147] with loose red flowers among the foliage of this tall shrub, may be seen. Down beside the stream, Stream lily, Helmholtzia glaberrima [Section 144] continues to present its pink toned plume-like flowers surrounded by its long flax-like leaves. At the exit of the upper path Eucryphia wilkiei [Section 313] has white cup-like flowers on this medium size shrub while beside is Rhododendron laetum [Section 313] squeezes its red buds among the surrounding shrub.
Hopefully the heat is less than today … Barbara Daly.