In Flower This Week
A weekly news sheet prepared by a Gardens' volunteer.
Numbers in square brackets [ ] refer to garden bed Sections. Plants in flower are in bold type.
View past issues of 'In Flower This Week'.
21 January 2011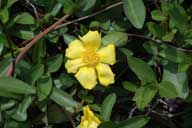 Hibbertia scandens
click for larger image
After inspecting the orchid display inside the Visitors Information Centre admire, outside the doors in pots, Grevillea leptobotrys, a small shrub laden with many pink flower spikes and the brilliance of the tangerine coloured bell-shaped flowers of Rhododendron macgregoriae x lochiae. However this walk wanders through the Rock Garden.
To arrive there follow the road on the far side of the Rainforest turning right at the connection of the Main Path which will reach the Rock Garden waterfall. In a clockwise direction the large yellow open flowers are of Hibbertia scandens [Section 15c], a vine which wind about any nearby shrub while opposite Hibbertia pedunculata [Section 15d] is a dense groundcover with small yellow flowers, clinging to the rocks. Isotoma anethifolia [Section 15c] is a small herb with small white star-like flowers. Grevillea 'Poorinda Royal Mantle' [Section 15d] is a dense groundcover profuse with dark red toothbrush-like flowers, cascading down the rocks. Chrysocephalum semiamplexicaule [Section 15f] has clusters of small bright yellow and orange flower heads on long wavering stems. Crinum angustifolium [Section 15d,15h] bears its spray of open white flowers on top of a long upright stem surrounded by long strappy leaves. Calostemma purpureum [Section 15b] and elsewhere, is a bulbous plant with heads of pink trumpet-like flowers.
Dampiera stricta [Section15f] is a suckering upright plant bearing bright blue flowers, squeezing between the rocks. In front, growing on the garden slope, Halgania cyanea [Section 15g] has deeper blue flowers over the small many branched plants. Grevillea albiflora [Section 15g] is a shrub of medium size, picturesque with an abundance of cream flower spikes. Above, the bank is picturesque with a crowd of kangaroo paws, Anigozanthos flavidus [Section 15h] with dusky red 'paw' flowers on long bare stems. Edging the stairs, Grevillea 'Mason's Hybrid' [Section 15h] reveals its lovely pink-cream terminal flower spikes on the ageing spreading shrub. At the top corner Grevillea lanigera [Section 15h is a dense prostrate plant profuse with pink-cream spider-like flowers. Across the road is a wattle, Acacia cremiflora [Section 3] so picturesque with a profusion of perfumed yellow flower balls covering this rounded medium size shrub. Edging this road is a close-up view of those bright kangaroo paws, Anigozanthos flavidus seen below. Straw flowers, Xerochrysum bracteatum [Section 15h] with bright yellow flowers self-seed readily. Scaevola albida var. albida [Section 15h] bears both white and mauve far shaped flowers over the small plants while Dampiera sylvestris [Section 15h] is a suckering upright plant displaying its attractive blue flowers.
Take the path down between the grass trees, Xanthorrhoea johnsonii [Section 15 and 14]. Calothamnus tuberosus [Section 14] is of medium size with pine-like foliage and with vivid red flower clusters which encircle the stems.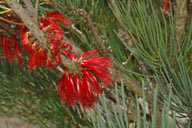 Calothamnus tuberosus
click for larger image
Edging this path Lysiosepalum involucratum [Section 15r] is a small, leaning, shrub with dark foliage and deep pink flowers. Stenocarpus angustifolius [Section 15s] is a rounded shrub of medium size with clusters of cream lacy flowers. Around the corner at the lower level Goodenia macmillanii [Section 15r] is a small sprawling plant with large pink flowers. In front of the waterfall, growing between the rocks (usually with water-dragons sunning on them) and up high, is Lythrum salicaria [Section 15q] tall and bright with its pink flowers. In the small garden are emu bushes, Eremophila christopheri [Section 15v] an open shrub decorated with mauve bugle shaped flowers and Eremophila latrobei [Section 15v] decorated with cerise coloured flowers.
The end of an interesting walk … Barbara Daly