In Flower This Week
A weekly news sheet prepared by a Gardens' volunteer.
Numbers in square brackets [ ] refer to garden bed Sections. Plants in flower are in bold type.
View past issues of 'In Flower This Week'.
14 January 2011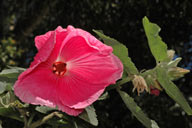 Hibiscus splendens
click for larger image
The orchid display in the Visitors Information Centre are so interesting while outside the doors the arrangement of Christmas Bells, Blandfordia grandiflora bearing large bell shaped red and yellow flowers on bare upright stems and Rhododendron macgregoriae x lochiae has many buds now maturing to bell shaped orange-red flowers, both so colourful.
The flowers from Banks Walk are many. Behind Sir Joseph Banks statue, Old Man Banksia, Banksia serrata [Section 174] a tall dense shrub revealing yet a few grey-green flower spikes. Sturt's Desert peas, Swainsona formosa continues to bear its large red pea-shaped flowers mixing with the greyish trailing foliage in a pot. Scaevola 'Aussie Crawl' [Section 174], a small dense shrub blue with fan-shaped flowers. Kangaroo Paws grow in many parts of the Gardens. Here, they include Anigozanthos 'Bush Haze' [Section 210] with bright yellow 'paw' shaped flowers and Anigozanthos flavidus [Section 210] with matt green flowers, all on long bare stems. Above is a small Eucalyptus ficifolia [Section 210] laden with clusters of buds tinted red. It could be showing some of its beautiful flowers in a few days.
This walk follows the road on the far side of the Rainforest. Clerodendrum floribundum var. attenuatum [Section 125] is a small tree with spotted trunk and sprays of creamy flowers. Swamp lily, Crinum pedunculatum [Section [125] is a large bulbous plant with many long succulent leaves, one with a spray of buds on a long upright stem. These will soon mature to a spray of fine long white petalled flowers. Ground cover, Grevillea 'Poorinda Royal Mantle' [Section124] is dense and red with bottlebrush-like flowers. To view the Stream lily, Helmholtzia glaberrima [Section 144] take the stairs down to the platform overviewing these pink toned plume-like flowers surrounded by long flax- like leaves. To view the Dorrego Waratah, Alloxylon pinnatum [Section 147] the loose red flower heads can be seen among the green foliage across the stream. The best viewing is from the stairs to the platform.
Returning to the former road, Grevillea 'Goldfever' [Section 124] is a small spreading shrub bright with apricot coloured flowers. Opposite the Brittle Gum Lawn, Native Rosella, Hibiscus heterophyllus [Section 114] with branches towards the road, has large open white flowers with flashes of pink. Like other mentioned hibiscus shrubs, they appear along this road. Hibiscus divaricatus [Section 114] has large yellow flowers. Hibiscus splendens [Section 104] displays many buds and today, one large pink flower. Further on opposite the triangle garden, a hybrid of Hibiscus splendens [Section 104] also with velvety leaves, has many deep cherry coloured flowers.
The triangle garden has many kangaroo paws in a group of all colours. Anigozanthos 'Bush Dawn' [Section 17] presents its yellow flowers, Anigozanthos 'Bush Haze' presents yellow-green flowers, Anigozanthos 'Bush Ruby' has its deep red flowers, etc. The flowers are a source of nectar of a variety of small birds including the Eastern Spine- bill and the New Holland Honeyeater. In this garden also are Dampiera linearis [Section 17] with such blue flowers on upright stems and the bright yellow-orange small button shaped flowers of Chrysocephalum apiculatum [Section 17].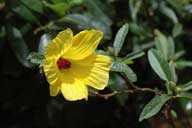 Hibiscus divaricatus
click for larger image
A short walk along this road, passing other flowering plants, is Banksia speciosa [Section 36] a large shrub with spreading branches clad with long narrow, deeply indented leaves and with many maturing cylindrical flower spikes shaded lemon-grey resembling acorns.
So much to enjoy along this road … Barbara Daly.