In Flower This Week
A weekly news sheet prepared by a Gardens' volunteer.
Numbers in square brackets [ ] refer to garden bed Sections. Plants in flower are in bold type.
View past issues of 'In Flower This Week'.
17 December 2010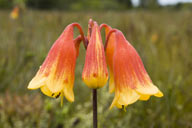 The orchid display inside the Visitors Information Centre is so colourful and interesting. The pots outside the doors contain Christmas Bells, Blandfordia grandiflora with their large spectacular bell shaped flowers coloured red and yellow. The wall outside is clad with the Forest Jasmine, Jasminum simplicifolium subsp. suavissimum [Section 208] clad with strongly perfumed white flowers. Opposite, Pandorea jasminoides [Section 212] is also a vigorous climber bearing trumpet shaped pink flowers. Edging Banks Walk a Wedding Lily, Dietes robinsoniana [Section 210] is a large flax-like plant with long strappy leaves and long stems with terminal sprays of white lily-like flowers. Sturt's Desert Pea, Swainsona formosa, in pots, continue to bear the renowned large black throated red pea-shaped flowers. Kangaroo Paws are flowering throughout the gardens. Here, they include Anigozanthos flavidus 'Turner's Pink' [Section 174] with their pink-toned 'paw' flowers on short upright stems while opposite, Anigozanthos 'BushSunset' [Section 210] with rust red flowers. Grevillea 'Lady O' [Section 210] colours the corner with flaming red flower clusters over a small shrub.
Take the stairs to the right a view Rhododendron macgregoriae x lochiae [Section 210] with low spreading branches clad with orange-red shaped flowers, is quite stunning. Following the Main Path Victorian Christmas Bush, Prostanthera lasianthos [Section 148] has a canopy of white, tinted mauve flowers while a Blueberry Ash, Elaeocarpus reticulatus [Section 148] is a large, many branched shrub with a profusion of cream buds now maturing to small cream frilly bell like flowers. Opposite Brush Cherry. Syzygium australe [Section 147] with branches above the board walk, displays many ovoid mauve fruits which followed its white fluffy flowers.
Where the path descends into the valley, view the Dorrego Waratah, Alloxylon pinnatum [Section 144], a tall slim shrub bearing loose red waratah-like flower heads among the dense foliage … seen better before descending. At the bottom of the stairs, edging the rippling stream, a Stream Lily, Helmholtzia glaberrima [Section 147,146] with long flax-like leaves has pink stemmed plume-like pink flowers.
Above the stairs on the other side of the Rainforest, Melaleuca thymifolia [Section 124] is bright with white feathery flowers over the upright shrubs. Following the road uphill opposite the Brittlegum Lawn, Cuttsia viburnea [Section 125] is a large dense shrub clad with clusters of fragrant flower clusters. Hibiscus divaricatus [Section 104,114] is an open shrub bearing bright yellow flowers while Hibiscus splendens [Section 114] has velvety leaves and pink flowers. Cross the grey Main Path where the road is edged with the native violet, Viola hederacea [Section104], a dense groundcover displaying its small white and purple flowers. At the next curve Callistemon viminalis [Section 78] has an abundance of fiery red bottlebrush-like flowers scattered over this large dense shrub. Far behind a Gymea Lilly, Doryanthes excelsa [Section 78] with long strappy leaves surrounds an elongated stem topped with a cluster of red flowers.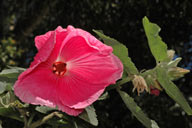 The triangle garden contains many kangaroo paws of many shades of red, yellow and green. They include Anigozanthos 'Bush Dawn' [Section 17] with shades of yellow, Anigozanthos 'Bush Noon' [Section 17]with rust red shades and Anigozanthos flavidus [Section 17] with a soft green colour. Chrysocephalum apiculatum [Section 17] in a group, is prominent with clusters of small heads of yellow-orange flowers on upright leafy stems. Before returning, a little further on Showy Banksia, Banksia speciosa [Section 36] is a large shrub clad with long narrow deeply indented leaves and with a profusion of cylindrical flower spikes now coloured a pale green which will mature to a yellowish colour. The path to the right leads to the Rock Garden.
Always another flower around the corner … Barbara Daly.