In Flower This Week
A weekly news sheet prepared by a Gardens' volunteer.
Numbers in square brackets [ ] refer to garden bed Sections. Plants in flower are in bold type.
View past issues of 'In Flower This Week'.
10 December 2010
Flowers in the Gardens are forever changing but always magnificent. Observe those from the Banks Walk then continue to the Rock Garden. To arrive there follow the road on the far side of the Rainforest turning right at the connection of the Main Path which will reach the Rock Garden waterfall.
In a clockwise direction and at the base of the stairs Zieria citriodora [Section 15d] is a dense ground cover clad with tiny pink flowers seen creeping between the rocks while beside the stairs another ground cover, Hibbertia pedunculata [Section 15d] clad with bright yellow flowers, seen hugging the rock edges. Grevillea 'Poorinda Royal Mantle' [Section 15d], also a ground cover, cascades down the rockface displaying red toothbrush flowers amid the dense greenery. A grouping of kangaroo paws, Anigozanthos 'Regal Claw' [Section 15d] reveals its 'paw like' reddish green flower heads on long bare stems while Chrysocephalum semiamplexicaule [Section 15d] displays its clusters of small flower heads atop upright leaf-clad stems. At the corner Banksia blechnifolia [Section 15d] is a prostrate plant dense with long upright deeply lobed tough leaves which almost conceal its cylindrical upright flower spikes coloured dark red, all sitting on the ground.
Clusters of white daisies, Rhodanthe anthemoides [Section 15m] grow close to the path while, in front Verticordia mitchelliana [Section 15g] is a small open shrub bright with many well designed red flowers. Beside is Halgania cyanea [Section 15g], a smaller shrub dotted with blue flowers. Covering the rocks in front, is another dense ground cover, Frankenia pauciflora [Section 15g] clad with tiny pink flowers. To the right, the slope has a scattering of Pale Vanilla Lillies, Arthropodium milleflorum [Section 15h], its long graceful flower spikes bearing small pale pink-petalled flowers surrounded by grass-like foliage. Edging the nearby stairs Grevillea 'Mason's Hybrid' [Section 15h] is a spreading old shrub with its long branches clad with terminal clusters of pink and cream flowers. From the upper road shrubs include Derwentia perfoliata [Section 15h], a dense low shrub with terminal sprays of deep blue flowers. Thomasia petalocalyx [Section 15h] is also dense with a profusion of downturned pink flowers. Dampiera sylvestris [Section 15h] has bright blue flowers on the upright stems of this suckering plant while, beside, Scaevola albida var. albida [Section 15h] displays its white, and also mauve coloured fan-shaped flowers.
Taking the path down to the right between grass trees, Xanthorrhoea johnsonii [Sections 15,14] passing Homoranthus prolixus [Section 15j] a low shrub with lateral branches clad with terminal horizontal flower clusters. At the lower level, to the left view, beside the seat, Grevillea sp. [Section 14] a prostrate spreading shrub bearing pinkish tooth-brush flowers with long red stamens. Kunzea pulchella [Section 14] is a shapely shrub profuse with deep red rounded fluffy flowers. Continuing downwards Persoonia sp. [Section 15p] is a semiprostrate shrub profuse with tiny yellow tube shaped flowers. Opposite, the large shrub bearing bright yellow flowers is Labichea lanceolata [Section 15r]. At the lower level Goodenia macmillanii [Section 15r] is a small sprawling plant pretty with large pink flowers.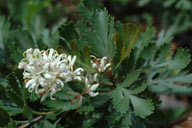 Looking towards the waterfall the vista of the ponds with background of the Gymea Lily, Doryanthes excelsa [Section 15c] bearing clusters of large red flower heads on long upright stems surrounded by large strappy leaves and the sprays of cream flowers of Lomatia tinctoria [Section 15d] is quite pleasing. Water dragons and blue wrens attract attention, too.
Pretty place, this Rock Garden … Barbara Daly