In Flower This Week
A weekly news sheet prepared by a Gardens' volunteer.
Numbers in square brackets [ ] refer to garden bed Sections. Plants in flower are in bold type.
View past issues of 'In Flower This Week'.
3 December 2010
This walk follows the Main Path which passes through areas of the lovely gum trees, the Sydney Basin Flora, the Rock Garden and the Rainforest. Flowers are many from the Visitors Information Centre to the Ellis Rowan Garden from where this walk commences.
To start a bottlebrush, (many of which brighten the Gardens with their red flowers) Callistemon subulatus [Section 12] has deep red flowers on its arching branches. Close by a tea-tree, Leptospermum brevipes [Section 12] clad with white open petalled flowers adorn this large pendulous shrub. Leptospermum 'Aphrodite' [Section 10] is a smaller upright shrub with soft pink flowers. Beside is Melaleuca spicigera [10] has clusters of pink flowers.
A group of grass trees, Xanthorrhoea glauca [Section 8] with dense green skirts and tall erect or curved spikes now clad with tiny white flowers. Opposite, in a garden of daisies, Chrysocephalum apiculatum [Section 303] cover the bed with tiny yellow flower heads and Podolepis robusta [Section 303] with scraggy heads of yellow flowers on long upright stems. Kunzea ambigua [Section 30] has an abundance of small feathery perfumed flowers over this many branched shrub while beside, is Kunzea ambigua x capitata [Section 30] similar with pink flower balls. Opposite is a Feather Flower, Verticordia plumosa [Section 30] a small upright plant clad with feathery pink flowers while opposite Verticordia galeata [Section 30] has yellow flowers. A geebung, Persoonia chamaepitys [Section 27], at the corner, is a dense ground cover yellow with tiny tubular flowers over its bright green foliage. Across the road Banksia blechnifolia [Section 26] is a prostrate shrub with underground branches, its deeply lobed leaves are upright with reddish flower spikes appearing to be sitting on the ground. Grevillea 'Bonfire' [Section 24] is attractive with its curvaceous waxy red flowers among its soft green foliage of this upright shrub, seen either side of the seat. Passing other grevilleas, Grevillea wilsonii [Section 26] is a low spreading shrub with cherry coloured flower heads. Over the next road, Eriostemon australasius [Section 112] is a small shrub attractive with bright pink five-petalled flowers. The path then curves through the Sydney Region Gully where a display of Jacksonia scoparia var scoparia [Section 191h] profuse with orange pea-shaped flowers are seen. The Native Iris, Patersonia sericea [Section 191g] has strappy leaves and large deep mauve three-petalled flowers. Hibbertia pedunculata [Section 191j] is a dense prostrate plant with many yellow flowers. Sydney Flannel Flowers, Actinotus helianthi [Section 191u] are a picture with many soft felt-like silver-grey leaves and attractive daisy-like white flannel flowers. There too, is Seringia hillii [Section 191u] a small upright plant with hairy leaves and purple five-petalled downturned flowers. Plantings are seen in the newly developed area include flannel flowers and waratahs which have finished flowering.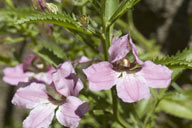 The path then weaves across the Eucalyptus Lawn down to some hakeas which include Hakea archaeoides [Section 20] a tall shrub with its rust-red flower heads. The Rock Garden abounds with flowers. Coppercups, Pileanthus vernicosus [Section 14] in a grouping, have showy red flowers. Across the lawn, Kunzea pulchella [Section 15r] is a low dense shrub bright with rounded clusters of bright red flowers. Edging the path Goodenia macmillanii [Section 15R] has large pink flowers on the small upright plant. In front, behind the waterfall and ponds, Gymea Lily, Doryanthes excelsa [Section 15c] bears its clusters of red flower heads on long upright stems.
The path then continues to the coolness of the Rainforest, so green, so relaxing… then down the ramp with other flowers.
Such a assortment of flowers … Barbara Daly.