In Flower This Week
A weekly news sheet prepared by a Gardens' volunteer.
Numbers in square brackets [ ] refer to garden bed Sections. Plants in flower are in bold type.
View past issues of 'In Flower This Week'.
12 November 2010
The orchid display in the Visitor Information Centre is worth viewing, as are the orchids opposite the entrance door. The flowers along Banks Walk, including Sturt's Desert Pea Swainsona formosa, with its vivid red pea-shaped flowers, are so colourful. In fact, colourful flowers continue throughout the Gardens. This walk will aim to cover the Mallee section which contains species from South and Western Australia. It is found above the old nursery site starting outside the toilet block.
Tetratheca thymifolia [Section 44] is a dense shrub clad with pink down-turned flowers while the shrub beside it is clad with white flowers. Groundcovers edging the uphill road include Chrysocephalum apiculatum [Section 300], dense with heads of small orange-yellow flowers, while Brachyscome multifida 'Breakoday' [Section 300] is clad with small mauve daisy-like flowers. Opposite, Hibbertia perfoliata [Section 100] is a dwarf round shrub bright with yellow flowers while an emu-bush, Eremophila saligna [Section 100] is a shrub of medium size displaying small white tube-shaped flowers.
Taking the path to the right, where Eremophila warnesii [Section 100] is low with furry foliage and purple bugle-shaped flowers. Entering the boardwalk in an anticlockwise direction the following flowering plants may be seen: Prostanthera aspalathoides [Section 100b] is a small compact shrub with slim tube-shaped red flowers. Grevillea pilosa [Section 100b] has powdery pink flowers edging its prostrate branches, shared with sharp holly-like leaves. Dampiera dysantha [Section 100a] is a low suckering plant with deep blue flowers. In the valley the pendulous clusters of orange-yellow flowers in an open shrub are those of Grevillea dielsiana [Section 100a]. Emu-bush Eremophila calorhabdos [Section 100b] is a small shrub with upright branches densely covered with short hairy leaves and small reddish tube-shaped flowers towards the branch tips. Close by is another emu-bush Eremophila racemosa [Section 100b], a small spreading shrub clad with orange buds which will mature to reddish-purple tube-shaped flowers. Melaleuca fulgens [Section 100b] is an open upright shrub displaying its orange bottlebrush-shaped flowers while opposite, Isopogon formosus [Section 100a] displays its floppy pink flower heads over the disorderly branches. A group of Lechenaultia biloba [Section 100b] has attractive small white-centred blue flowers while behind, Alyogyne huegelii [Section 100b] is an open shrub with large white hibiscus-like flowers. Conostylis seorsiflora subsp. seorsiflora [Section 100a], a ground-hugging plant, is colourful with small star-shaped yellow flowers and a Smoke bush, Conospermum huegelii [Section 100a], is a small tufted plant with heads of bluish flowers on upright stems.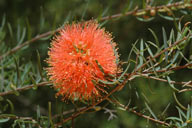 Rounding the curve Grevillea 'Sid Reynolds' [Section 100b] is a large ageing shrub bearing pink-cream flower clusters while beside, Boronia crenulata var. crenulata [Section 100c] has a coverage of tiny pink four-petalled flowers. Behind, Verticordia galeata [Section 100c] is a dwarf shrub profuse with yellow feathery flowers. Thomasia petalocalyx [Section 100a] is a spreading dense shrub speckled with pink down-turned flowers. Further along, Dryandra sessilis var. cygnorum [Section 100a, c], are open shrubs with heads of cream fluffy flowers. Diplolaena microcephala [100a, c] of similar size, has interesting pendent flowers coloured red, set in creamish bracts. Pimelea spectabilis [Section 100a), fenced in, is an upright shrub with really lovely large pinkish-cream flower heads.
While in this area, across the bridge Eucalyptus petiolaris [Section 206] is prolific with rich red flowers on the large arching branch (better seen from the upper path).
Another area of the Gardens worth a visit … Barbara Daly.