In Flower This Week
A weekly news sheet prepared by a Gardens' volunteer.
Numbers in square brackets [ ] refer to garden bed Sections. Plants in flower are in bold type.
In Flower this Week
A weekly news sheet prepared by a Gardens' volunteer.
Numbers in square brackets [ ] refer to garden bed Sections. Plants in flower are in bold type.
15 October 2010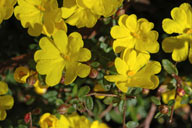 Hibbertia empetrifolia
click for larger image
The flowering plants in the Gardens have never been so prolific. Edging Banks Walk the Scrambling Guinea Flower, Hibbertia empetrifolia [Section 210] is yellow with small open flowers, seen falling over the retaining wall. It is highlighted by contrast with the deep purple hibiscus-like flowers of Alyogyne 'West Coast Gem' [Section 210], the purple pea-shaped flowers of Hardenbergia violacea [Section 210] and the mauve flowers of the mint bush, Prostanthera phylicifolia [Section 210.
Edging the far side of the Rainforest, attached to rocks or tree trunks, are orchids including the Rock Orchid, Dendrobium speciosum [Section 125] with its large leathery leaves and spikes of lemon-white flowers, and Dendrobium falcorostrum [Section 125] with similar foliage but with spikes of smaller white frilly flowers. Opposite is Grevillea rosmarinifolia 'Rosy Posy' [Section 128], a small shrub with pine-like leaves and with profuse pendular clusters of lovely red flowers. Leptospermum 'Pacific Beauty' [Section 128] bears pink buds and white open-petalled flowers along its arching branches.
A waratah, Telopea speciosissima 'Corroboree' [Section124] is an upright shrub crowned with many red buds, some of which may be opening by the time you read this. It is surrounded by a dense ground-cover, Grevillea 'Poorinda Royal Mantle' [Section 124] with a profusion of deep red toothbrush-like flowers. Grevillea 'Ivanhoe' [Section 124] is a large shrub with many white lacy flowers while nearby, Grevillea 'Goldfever' [Section 124] is a small shrub bearing apricot-coloured spider flowers. Opposite is the colourful Indigofera australis [Section 125], its branches clad with pink pea-shaped flowers and grey-green foliage.
The next group of flowers are in the triangle garden where Chamelaucium ciliatum [Section 17] is a small floppy shrub, its branches clad with tiny white flowers which should age to pink. Behind is Chamelaucium 'Cascade Brook' [Section 17]. This shrub is of medium size, profuse with mottled pink waxy flowers. A prostrate form of Homoranthus flavescens [Section 17] has horizontal branches with nectar-laden yellow flowers. Dampiera salahae [Section 17] is a small plant, attractive with blue flowers creeping along the earth.
In the opposite curve, Libertia paniculata [Section 78] is a tufted plant with slim strappy leaves and white flowers on tall stems. Buttercup, Ranunculus collinus [Section 78] is an attractive spreading groundcover, showy with its waxy yellow flowers. (Should be an improvement on the capeweed now invading nature strips and open spaces). Taking the road to the right, the mint bush Prostanthera rotundifolia [Section 78] is also showy, for this grouping of plants is clad with deep mauve flowers. Beside is Philotheca myoporoides [Section 78], clad with white star flowers, seen often in the Gardens.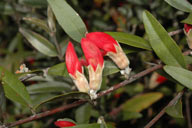 Gastrolobium celsianum
click for larger image
Take the winding path downhill to view Kennedia macrophylla [Section 79], a scrambling vine stunning with its large rich pink pea-shaped flowers. Then across to the lower corner of the Rock Garden which abounds with colourful plants. But here the walk follows the road down to the right. At the corner, Lysiosepalum involucratum [Section 4] is a small dense shrub clad with rust coloured buds opening to pinkish star flowers. Gastrolobium celsianum [Section 110] is a low spreading dense plant prominent with large scarlet pea-shaped flowers. Can't miss Grevillea aspleniifolia [Section 124, 117]. It is of medium height and an extended width, profuse with long narrow leaves and pink toothbrush-like flowers. Almost opposite, emu-bushes include Eremophila drummondii [Section 302], an upright shrub adorned with mauve tubular flowers and Eremophila maculata subsp. maculata [Section 302] bearing yellow tubular flowers.
This path leads to the coffee shop but a display at the Visitors Information Centre is worth seeing. It consists of a wall of many orchids, some well perfumed.
A colourful walk … Barbara Daly.