In Flower This Week
A weekly news sheet prepared by a Gardens' volunteer.
Numbers in square brackets [ ] refer to garden bed Sections. Plants in flower are in bold type.
8 October 2010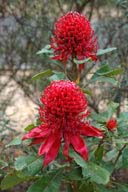 Telopea speciosissima
click for larger image
Floral colours are bright throughout the gardens – the purple of the native sarsaparilla and the yellows of wattles. Spring has arrived and flowers are blooming, as illustrated along Banks Walk as well as along the Main Path which this walk will follow. So, commencing at the far end of the café building there is a waratah, Telopea speciosissima [Section 240] with its popular red floral heads standing sentry in a colourful pot. Other plants, also in colourful pots, include Calytrix glutinosa [Section 12], clad with pale lilac flowers, and Albany Daisy, Actinodium cunninghamii [Section 12] with flowers appearing to be red with a white fringe, on long upright stems. Thryptomene denticulata [Section 11] presents its tiny pink flowers edging the arching branches. Pass below the lovely old paperbark branches of melaleucas, to view a garden of emu bushes which include Eremophila bowmanii [Section 302], a tiny shrub clad with mauve bugle-shaped flowers.
The next stop is a group of waratahs clad with large pink buds. Beside is Eriostemon'J.Semmens' [Section 30] a picture with white multi-petalled flowers and pink buds. Homoranthus flavescens [Section 30] is of medium size with flat-topped yellow flower heads. Banksia spinulosa [Section 7] bears upright cylindrical yellow flower spikes while beside, Grevillea dimorpha [Section 7] is bright with red flowers clinging to its many branches. Grevillea rhyolitica subsp. rhyolitica [Section 25] has red spider flowers dangling from the branches of this large shrub.
Crossing the next road many grevilleas are flowering. Surrounding Grevillea sericea [Section 26], an upright slim shrub clad with pink flowers, Grevillea lavandulacea [Section 26] presents its deep red flowers amid its grey foliage. Surrounding the seat, the tall shrubs of Grevillea'Bonfire' [Section 24] bear lovely waxy curvaceous flower clusters. Behind the next seats Banksia blechnifolia [Section 26] is a prostrate plant with upright deeply lobed leaves and reddish brown juvenile flower heads, all appearing to rise directly from the ground.
Crossing over the next road, Philotheca myoporoidessubsp.conduplicata [Section 112] has pink buds and white flowers with curved petals, while opposite, Phebalium squamulosum [Section 112] is clad with yellow lacy flower heads. Close by, Eriostemon australasius [Section 112] is attractive with large pink star flowers. Boronia muelleri [Section 112] has a profusion of pale pink flowers. Crossing the next road, the path wanders through the Sydney Region Gully where numerous boronias grow. They include Boronia ledifolia, Boronia pinnata and Boronia deanei. Triplarina nowraensis [Section 191h] is an open pendulous shrub with branches clad with tiny perfumed buds. The exit is being redeveloped with… well, come and see… but there are many waratahs, Telopea speciosissima [Section 191L], adorned with their terminal red flowers.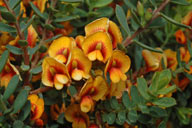 Eutaxia obovata
click for larger image
Through the Eucalyptus Lawn down to an area of wattles, all flowering, also Eutaxia obovata [Section 18], a low spreading shrub profuse with small yellow-red pea-shaped flowers. At the exit, Hovea similis [Section 18] is an open upright shrub with colourful purple pea-shaped flowers edging the branches.
Across the road are hakeas, including Hakea purpurea [Section 20] with crimson lacy flowers on bare upright plants. Enter the Rock Garden where a protected patch of daisies, Rhodanthechlorocephala subsp. rosea [Section 4] is brilliant with a variety of pink flowers. Indigofera australis [Sections 15R, 4] has branches clad with pink pea-shaped flowers arching towards the path and the Gold Dust wattle, Acacia acinacea [Section 15r] has its low arching branches yellow with its fluffy flower balls.
So to the Rainforest, cool and pleasant with so many shades and shapes of green, to the ramp with still more flowers, down to the Information Centre.
Such a colourful spring walk … Barbara Daly.