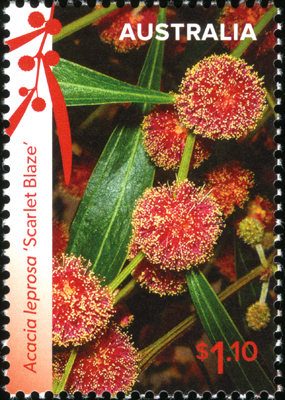 Date of issue: 14 September 2021
Designer: Keith Downes, Australia Post Design Studio
Printer: EGO
This is part a series of 3 'Wattle Wonders' stamps.
Plant: Acacia leprosa 'Scarlet Blaze'
Family: FABACEAE
Scarlet Blaze
This unique cultivar was discovered as a single specimen with red flowers
in the wild and brought into cultivation.
Acacia leprosa is usually a large shrub with slender habit to 5 m.

Distribution: Vic, NSW, Qld.

The red-flowered cultivar must be grown from cuttings.
---
---