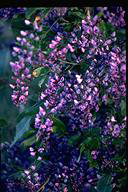 Hardenbergia comptoniana
click for larger image
These spring flowers, they bloom beside the paths, they bloom in the pots about the buildings. They also bloom further afield where this walk will go. To get to the beginning of this walk, follow the road edging the far side of the Rainforest, turning right as seen on the map, then below the arching branches of the she-oaks, Allocasuarinasp. [Section 40]. The walk starts between sections 49 and 45, across the road.
To start, there are many white flowering shrubs including Leionema coxii [Section 49] and Philotheca myoporoides subsp. myoporoides [Section 49], both with star-shaped flowers. At the next left corner the twining vine Kennedia retrorsa [Section 47] acts as a groundcover, with pink-purple pea-shaped flowers rising above the foliage. Beside it is a native sarsaparilla, Hardenbergia comptoniana [Section 47], a vine which climbs about a tree trunk and other shrubs, densely clad with deep purple pea-shaped flowers. Opposite, Zieria parrisiae [Section 48] is a shrub of medium size with a profusion of pink buds and clusters of small white flowers. At the corner to the right Acacia menzelii [Section 46] is a picture, with yellow fluffy flowers edging the lateral branches of this small shrub. In front, Boronia microphylla [Section 46] is a small rounded shrub pretty with small pink flowers.
This winding path displays numerous white-flowered shrubs. As well, Philotheca salsolifolia [Section 46] has soft pink star-shaped flowers over the many branched shrub, Phebalium squamulosum subsp. lineare [Section 46] has branches tipped with rounded clusters of tiny yellow flowers and behind the Asterolasia hexapetala [Section 46], also with white star flowers, is a grouping of Zieria formosa [Section 46] with clusters of pink flowers among the grey-green foliage.
Across the path there is a grouping of Boronia muelleri'Sunset Serenade' [Section 46], quite stunning with its coverage of pink-white star flowers. Crowded beside is Crowea 'Festival' [Section 46] with a scattering of deep pink star flowers. Phebalium woombye [Section 46] is a low spreading shrub with a profusion of rust coloured buds maturing to white flowers. Then there is Boronia sp. aff.deanei [Section 46] with a profusion of cherry red buds edging the stems. Opposite, find Diplolaena microcephala [Section 46], low and spreading with interesting pendent flowers coloured greenish-yellow with green bracts. Another boronia, Boronia'Telopea Valley Star' [Section 46] has brilliant pink flowers contrasting with its dark foliage, and close to it is Leionema phylicifolium [Section 46], profuse with dense clusters of yellow flowers edging the stems. The low spreading shrub Zieria adenophora [Section 46] has tiny white flowers amongst its leaves which, although very much alive, look dead. Hakea lissocarpha [Section 56] is a low sprawling shrub, its terminal branches clad with white lacy flowers amid the green foliage, while opposite, Grevillea lanigera [Section 56] is a dense groundcover bearing deep pink spider-like flowers.
Almost surrounding the seat, Grevillea corrugata [Section 56] is dense with white lacy flowers while opposite, Dryandra obtusa [Section 56] is very small with long narrow indented leaves and ground-level rust-red flower heads. At the exit, Grevillea rigidasubsp.rigida [Section 56] is a low spreading shrub with red toothbrush-like flowers. Behind is Petrophile biloba [Section 56], an upright plant with small prickly leaves and with fascinating fluffy pink flowers which spread along its stems.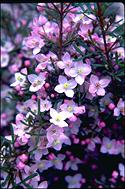 Boronia 'Sunset Serenade'
click for larger image
Flowers continue along any return path but if taking the small path near the seat, Grevillea'Coastal Glow' [Section 56] is a large shrub laden with deep pink toothbrush-like flowers. Further along, Zieria prostrata [Section 46] is a mostly mounded spreading plant with dark foliage sprinkled with tiny pink flowers …. So many interesting flowers up here.
Worth the walk, with much bird life … Barbara Daly.