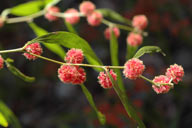 Acacia 'Scarlet Blaze'
click for larger image
Wattles continue to brighten the gardens however they are not all golden for Acacia 'Scarlet Blaze' [Section 131] colours its flower balls an orange-red seen along its willowy branches just past the café. Australian Golden Wattle, Acacia pycnantha [Sections 223, 224] is also showy with its large golden flower balls over the medium size tree at the southern lower stairs to the Information Centre.
However the walk is about the Rock Garden. To get there follow the road on the far side of the Rainforest, turning right at the connection of the Main Path which will reach the waterfall. Taking the stairs to the left where the lovely white daisies, Rhodanthe anthemoides [Section 15d] are crowd between the rocks and opposite, Grevillea lanigera [Section 15c] displays its pink-cream flowers over its spreading groundcover. Up the stairs, Banksia integrifolia subsp. integrifolia [Section 15c] is so dense with upright cylindrical lemon flower spikes among its silver backed leaves. Adenanthos obovatus [Section 15d] is a small upright shrub with fine red tubular flowers while Grevillea monticola [Section 15d] has spiky leathery leaves and long cream flower clusters. Behind also is a large spreading Grevillea manglesii subsp. ornithopoda [Section 15d] clad with cream lacy flowers.
Daviesia horrida [Section 15f] has long needle foliage with orange-black pea-shaped flowers on the open upright shrub. In the centre of this garden Rulingia luteiflora [Section 15f] is a spreading medium size shrub clad with small yellow flowers while Acacia pravifolia [Section 15f] has yellow flower balls among its entanglement of stems. Around the curve Micromyrtus ciliata [Section 15g] is so attractive for this shrub has a coverage of small red-cream buds and flowers along its lateral stems seen sitting above the rock shelf.
At the base of these stairs Westringia glabra [Section 15a] is of medium size with many pink flowers. Edging the stairs, Homoranthus flavescens [Section 15a] is a neat dense shrub with flattened branches clad with long yellow flower spikes. From the top road, Grevillea rhyolitica subsp. rhyolitica [Section 15h] is yet a small shrub with red flower clusters. Grevillea iaspicula [Section 15h] has red-cream flower clusters on this upright shrub while Philotheca sp. [Section 15h] is picturesque with many white star flowers among its pink buds. At the corner Brachyscome formosa [Section 15h, 15r] is a small suckering herb bright with pink daisy-like flowers. Ricinocarpos bowmanii [Section 15j] has pink centred white flowers with down-turned petals over the small open shrub.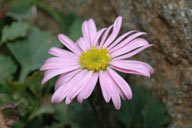 Brachyscome formosa
click for larger image
Take the path down between the grass trees, Xanthorrhoea johnsonii [Section 15j,14]. Around the lower corner Leucopogon neoanglicus [Section 15k] is a dwarf spreading shrub clad with tiny red tube shaped flowers among the dark foliage. From the path downwards Dryandra fraseri var. fraseri [Section 15p] is a small open shrub with interesting narrow lobed leaves surrounding orange flower heads. Snug between the rocks Dampiera salahae [Section 15r] is a small plant with deep blue flowers while opposite a tall waratah, Telopea speciosissima 'Wirrimberra White' [Section 15r] conceals its large pale buds among the foliage. Hardenbergia violacea [Section 4] with its vivid purple pea shaped flowers climbs any surrounding shrub while, to the left an enclosure contains a crowd of pretty paper daisies, Rhodanthe chlorocephala subsp. rosea [Section 4].
Time to sit in front of the waterfall and ponds to view the background of yellow wattles, the sound of croaking frogs, the sight of a variety of birds and know that spring will be even prettier.
Great place, these gardens … Barbara Daly.