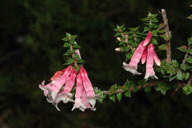 Epacris reclinata
click for larger image
Our garden city is bright with golden wattles. Likewise the Botanic Gardens. Because of the weekend gale force winds and heavy rains the gardens are closed today so this walk is only about the buildings, still with many flowering plants including wattles. The 'TREE OF TREES' display to see the diversity of the genus Acacia in Australia and how they evolved, is worth viewing at the old nursery site.
Notice, in the south car park Acacia baileyana [Section 227] and Acacia cultriformis 'Cascade' [Section 226] fall over the rock walls colouring them yellow with flower balls. At a corner, the False Sarsaparilla, Hardenbergia violacea [Section 226] twines around and about and is well clad with its purple pea shaped flowers. It is quite flourific throughout the gardens. Pomaderris sp. with large clusters of yellow flowers edge the boundary fence Outside the Visitors Information centre are pots containing different wattles. Note the foliage, shapes and sizes and the flower balls too, how they vary. Pots in front of Joseph Banks sculpture contain such plants as Calytrix leschenaultii [Section 172] with small purple star shaped flowers with Calytrix glutinosa a taller shrub with white flowers. In another pot Lechenaultia formosa [Section 172] is a dwarf plant with orange flowers with Thryptomene denticulata, an upright shrub with lateral branches clad with pink flowers.
Edging Banks walk, Acacia gordonii [Section 172] is a low spreading shrub with stiff lateral branches containing firm yellow flower balls while opposite, the Snowy River Wattle, Acacia boormanii [Section 210] is showy with its dense coverage of soft yellow flower balls reaching towards the path. Looking up the nearby path, Hakea 'Winter Burgundy' [Section 210] stands erect and crowned with bright pink globular flowers crowding the stems. Woollsia pungens [Section 174] is a many stemmed plant clad with clusters of white flowers. Close by is Epacris reclinata [Section 174], a dwarf shrub clad with deep pink tube shaped flowers and Epacris longiflora [Section 174] with cream tube flowers dangling in rows from the branches. The patches of white straw flowers are those of Rhodanthe anthemoides [Section 174] while Chamelaucium 'Cascade Jewel' [Section 174] presents its lovely waxy pink open flowers on the medium size shrub. Opposite, Grevillea 'Bonfire' [Section 210] is a tall arching shrub with soft divided leaves and waxy red terminal flower clusters.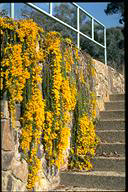 Acacia cultriformis 'Cascade'
click for larger image
Cross the bridge over the Soft Tree-ferns, Dicksoniaantarctica, pass the café to the Ellis Rowan garden. Banksia 'Stumpy Gold' [Section 131] a dwarf spreading shrub with dull gold upright cylindrical flower spikes. The Native Fuchsia, Epacris longiflora [Section 131] bears slim red tube flowers with white mouth along wiry stems and Epacris 'Nectar Pink' [Section 131] bears soft pink flowers with white mouth. On each side of a doorway, Acacia 'Scarlet Blaze' [Section 131] is an upright willowy plant, eyecatching with its orange-red firm flower balls dotted along the branches. Acacia covenyi [Section 240] is attractive with its bluish foliage and yellow flower balls form an arch across the path. Outside the Education Centre, Banksia 'Giant Candles' [Section 310] is prolific with its elongated golden flower spikes. Outside the Crosbie Morrison building, against the wall Eucalyptus caesia [Section 239] has upright streaky barked trunk with arching white branches and large attractive red-yellow flowers.
Throughout the gardens plants are bursting into flower now that spring is here.
A garden of wattles to enjoy… Barbara Daly.