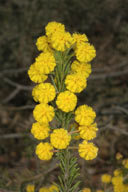 Acacia gordonii
click for larger image
Tis spring, the gardens are gold with wattle and WATTLE ACTIVITIES ARE HELD THROUGHOUT THE GARDENS UNTIL 8 SEPTEMBER. Information can be obtained at the Visitors Information Desk. However this walk will identify a range of other colourful plants in various parts of the gardens.
Edging Banks Walk a wattle, Acacia gordonii [Section 174] is of medium size with minute leaves crowding the branches, is bright with yellow flower balls. Not all wattles are gold for just past the café, Acacia leprosa 'Scarlet Blaze' [Section 131] is a slim upright plant with many buds and now with vermillion coloured flower balls along the willowy branches.
Follow the Main Path to where it crosses a road. Here, at the base of a large tree, Grevillea lanigera [Section 25] is a dense groundcover with a profusion of pink and cream flowers. Around the corner Grevillea dimorpha [Section 25] is a shrub of medium size well covered with burnt red flowers while, across the path Grevillea flexuosa [Section 25] is a dense spreading shrub with dark divided leaves and yellow cigar shaped flowers.
Taking the road to the right, Hakea 'Winter Burgundy' [Section 26] is so brilliant with its globular cherry coloured flowers hugging the terminal branches. At its base Banksia spinulosa var. neoanglica [Section 26] bears its bright yellow cylindrical upright flower spikes over a low shrub. Grevillea sericea [Section 26], close by, is an upright plant with pink spider-like flowers. Surrounding it is Grevillea baueri [Section 26] a dwarf shrub with a profusion of red flower clusters. There too, is Petrophile biloba [Section 26] an upright plant bearing fluffy grey-pink flower clusters. Grevillea lavandulacea [Section 26] is a small shrub with dark grey-green foliage brightened with dark red flowers.
Following this road are Grevillea preissii [Section 26] a low spreading shrub with red flowers among the soft foliage. The Red Spider Flower, Grevillea speciosa [Section 26] is of medium size bearing many red flowers dangling from the branches. Grevillea 'Nana' [Section 26] is a small plant bearing many buds just exploding to yellow flowers. Grevillea irrasa subsp. didymochiton [Section 26] has powdery red spider flowers scattered among the foliage of this large shrug. Grevillea floribunda subsp. floribunda [Section 26] is decorated with rods of rust red powdery flowers over the upright shrub.
At the curve of this section Isopogon buxifolius var. spathulatus [Section 26] a small rounded shrub with small flower heads of woolly grey-white flower clusters. Beside is Grevillea wilsonii x tripartia [Section 26] a medium open shrub displaying clusters of scarlet flowers with long scarlet styles.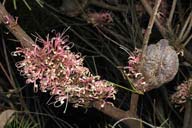 Hakea bakeriana
click for larger image
Make sure you visit the 'TREE OF TREES' display at the Old Nursery Site to see the diversity of the genus Acacia in Australia and how they have evolved. To get there pass some hakeas worth viewing. They include Hakea bakeriana [Section 21] a rough looking shrub noticeable with its many large dark fruits singly or in clusters attached to the old wood and beautified with large clusters of pinkish flowers. Hakea francisiana [Section 21], a malformed shrub with long narrow leaves, few pink poker shaped flower heads and laden with buds. Follow this path to the end then follow the straight path directly to the Old Nursery Site.
A pleasant mixed enjoyable walk … Barbara Daly.