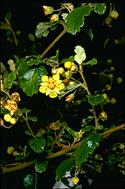 Rulingia luteiflora
click for larger image
These late winter days encourages a longer walk and this one finishes in a magical wattle wonderland. But to get there numerous flowers can be seen as well as many in bud.
To start, outside the Information Centre, Dampiera linearis drapes its branches clad with lovely blue flowers over the side of the pot while beside is a small upright shrub, Rulingia luteiflora clad with tiny yellow flowers. Along Banks Walk, pots close to the Joseph Banks sculpture contain Calytrix sp. a small upright many branched shrub clad with pink star shaped flowers and Calytrix leschenaultii, also upright clad with smaller purple flowers.
Edging Banks Walk Woollsia pungens [Section 174] has upright wiry branches with tips blanketed with white flowers. Opposite, falling over the rock wall a mint bush, Prostanthera phylicifolia [Section 210] is clad with small mauve flowers.
Following the road on the far side of the Rainforest a planting of Grevillea rosmarinifolia 'Rosy Posy' [Section128] small, many branched shrubs clad with pendular clusters of red flowers. They surround the Dagger Wattle, Acacia siculiformis [Section 128] a medium upright shrub with yellow fluffy flower balls edging the stems. Across the corner the Q'ld Silver Wattle, Acacia podalyriifolia [Section 126] has dense sprays of golden fluffy flower balls mixing with its silver-grey foliage. Close by, Banksia spinulosa [Section 126] is of medium size bearing many golden cylindrical flower spikes ribbed with red stamens. Westringia eremicola [Section 126] spreads its branches dotted with mauve flowers while Grevillea 'Poorinda Diadem' [Section 126] is a large, many branched shrub with apricot coloured flowers.
Below the limbs of the grand old Eucalyptus mannifera [Section 10] Thryptomene 'Pink Lace' [Section 19] continues to bear tiny pink flowers over the small shrub while opposite Grevillea 'Red Wings' [Section 119] is a semiprostrate spreading dense shrub with red flowers. In the bed of emu bushes, Eremophila maculata subsp. maculata [Section 302] has yellow tube flowers over the open shrub.
Taking the path back to the road this side of the Rainforest via. the Rock Garden continue to the small triangular bed where Epacris calvertiana [Section 17] has cream tubular flowers along the wiry branches. Beside is a Geraldton Wax, Chamelaucium 'Cascade Brook' [Section 17] looking magnificent with a profusion of waxy pink open petalled flowers. Another banksia of interest is the Showy Banksia, Banksia speciosa [Section 36]. It is a many branched, spreading shrub with long thin deeply toothed leaves and few greenish flower spikes which will mature to yellow (resembling an acorn]. Crowded beside is a most colourful Banksia spinulosa [Section 36] covered in profusion with golden flower spikes.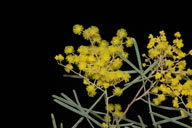 Acacia boormanii
click for larger image
Take the path up the few stairs to a covered shelter beside which other banksias including Banksia spinulosa var. collina [Section 37], similar to the former but with differing leaf formations. See the Snowy River wattle, Acacia boormanii [Section 1] all golden with many fluffy flower balls over the yet small upright shrub. Almost opposite the Ovens wattle, Acacia pravissima [Section 2] is an upright shrub with differing foliage and with flowers edging the stems. Continue downwards. Take time to wander about the wonderland forest of new and ageing wattles, such a pleasant experience, then through the Rock Garden back to the coffee shop.
Cold and relaxing … Barbara Daly.