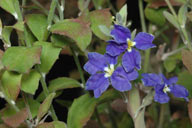 Dampiera linearis
click for larger image
In pots outside the Visitors Centre doors, Dampiera linearis displays its lovely blue flowers on long branches which fall over the side of the pot while Rulingia luteiflora, a small many branched shrub is yellow with many small flowers. This walk however is to view winter flowering plants in the Rock Garden. To get there follow the road on the far side of the Rainforest, turning right at the connection of the Main Path which will reach the waterfall.
At the base of the stairs, among the rocks Rhodanthe anthemoides [Section 15d] is a small dense plant now clad with tiny red and white buds which will open to white daisy-like flowers. Opposite, Grevillea lanigera [Section 15c] is a dense groundcover profuse with pinkish-cream flower clusters. Banksia integrifolia subsp. integrifolia [Section 15s,15l] is dense with silver backed leaves and upright cylindrical lemon flower spikes. Almost opposite, Banksia 'Honeypots' [Section 15d] is an upright shrub displaying its honey coloured flower spikes while in front Adenanthos obovatus [Section 15d] displays its fine red tubular flowers on a small upright open shrub.
In another section Grevillea lanigera [Section 15h] mixes with the Ovens Wattle, Acacia pravissima 'Kurang Cascade' [Section 15h] a dense semi-prostrate shrub with small triangular leaves and a profusion of buds, spreading over this area. Around the corner, worth admiring, is Micromyrtus ciliata [Section 15g] which edges the garden with small shrubs clad with brick red buds.
Towards the stairs Westringia glabra [Section 15a] has pink flowers sprinkled over the spreading shrub while edging the stairs Homoranthus flavescens [Section 15a] is a flat topped shrub with layers of reddish buds maturing to yellow flowers while Homoranthus bornhardtiensis [Section 15a] has grey-green foliage and dull red buds.
Edging the top road Grevillea iaspicula [Section 15h] is a small erect many branched shrub laden with dusky red buds opening to red-cream flower clusters. Olearia astroloba [Section 15h] is a spreading upright shrub with few purple daisies mixed with the dark foliage while beside, Cryptandra sp. [Section15h] is a low spreading shrub clad with tiny cream buds. At the corner another Cryptandra sp. [Section 15h] is showy with clusters of white buds over the small shrub.
Taking the right path down between the grass trees, Xanthorrhoea johnsonii [Section 15,14], then the left path passing the small shrub Olearia iodochroa [Section 15k] with a profusion of white daisies over the small shrub. Banksia 'Birthday Candles' [Section 15l], has many gold cylindrical flower spikes on its dense dwarf shrub while opposite, the cauliflower hakea, Hakea corymbosa [Section 15p] is interesting with 'cauliflower-like' rounded clusters of sharp pointed narrow leaves mixing with lemon-green flowers over this medium-sized shrub. At it base is Grevillea maxwellii [Section 15p], a semiprostrate plant having its red flowers hidden below the foliage which reaches over the rock wall.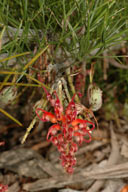 Grevillea maxwellii
click for larger image
At the lower end of this section Philotheca myoporoides [Section 15s] is prominent with its pinkish-white star flowers decorating the open upright shrub. Eucalyptus macrocarpa [Section 15s] is so attractive with its grey-blue oblong leaves and stems on the medium upright tree, alas, not yet in flower.
In front of the waterfall the Native Sarsaparilla, Hardenbergia violacea [Section 4] with its purple pea shaped flowers can be seen climbing up the lower branches of a tree while beside the drinking fountain, Guichenotia ledifolia [Section 4] has a covering of mauve downturned cup-like flowers on this rounded shrub.
So much colour in the wintery garden … Barbara Daly.