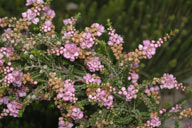 Thryptomene denticulata
click for larger image
These weekly 'In Flower' walks are varied, intending to follow different paths with a variety of flowers considering colour, form, foliage and taking note of trees and birds. This walk includes a section of large older shrubs.
The exciting new arrival is Correa' Canberra Bells' [Section 174] edging Banks Walk. It was selected to commemorate Canberra's Centenary, 1913-2013. It is now a small dense shrub not yet flowering. Following the Main Path, beside the café entry, Chef's Hat Correa, Correa baeuerlenii [Section 131] is a dense shrub with shiny dark green leaves among which are pale green tube shaped flowers. When the flowers fall the calyx remains which resembles a chef's hat. In the Ellis Rowan garden Banksia 'Stumpy Gold' [Section 131] is a dwarf spreading shrub with a profusion of upright cylindrical gold flower spikes. Opposite, Crowea 'Cooper's Hybrid' [Section 240] is of medium size and dense, sprinkled with pink star flowers while at the corner Grevillea rhyolitica subsp. rhyolitica [Section 240] is of similar size having dusky red pendulous flower spikes.
Take right path down to view Banksia 'Giant Candles' [Section 310] a tall shrub with brilliant gold elongated flower spikes. Return to follow the path beside the offices, to view below the lateral branches of the Eucalyptus mannifera [Section 10] a small spreading shrub. Thryptomene 'Pink Lace' [Section 10] is clad with tiny pink flowers. Around the next right corner the path is edged with Micromyrtus ciliata [Section 10], which is also low and spreading, attractive with its arching branches and clad with tiny red-white flower buds.
Continue along the Main Path to the left passing yet another small spreading shrub, Thryptomene denticulata [Section 9] clad with tiny pink flowers. Later pass the large Banksia ericifolia subsp. ericifoia [Section 30], long branches terminating with gold flower spikes, so brilliant. Banksia spinulosa var. neoanglica [Section 25] is also brilliant but with yellow flower spikes. Grevillea dimorpha [Section 25] is a small upright shrub picturesque with rust red flowers clinging to trunk and branches. (An older shrub can be seen around the next corner facing the road). The fern-leaved banksia, Banksia oblongifolia [Section 25] is of medium height with pale green flower spikes flowering about the base as well as amid the upper foliage. Opposite the next road many grevilleas are heavy in bud.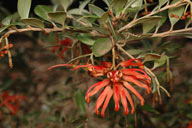 Grevillea brevifolia subsp. brevifolia
click for larger image
Take the next small path to the left and again to the left where this path is almost parallel with the road just crossed. It will lead to older shrubs. Grevillea brevifolia [Section 23] is a dense rounded shrub of medium size presenting rust red flower clusters while beside is Grevillea juniperina [Section 23] a more open shrub with fine needle foliage and deep pink spider-like flowers. Opposite this small path Grevillea 'Bonfire' [Section 24] is large and spreading with waxy red flower sprays mixing with its fine divided foliage. It mixes with Grevillea brevifolia [Section 24]. Further along is Grevillea juniperina [Section 23] with yellow spider flowers on long branches seen above other shrubs. Grevillea 'Crosbie Morrison' [Section 24] shows its age but still is quite densely clad with scarlet spider flowers. Then, in a clearing Isopogon buxifolius var. spathulatus [Section 23] is a small many branched upright shrub clad with greyish flowers. Then the Q'ld Silver Wattle, Acacia podalyriifolia [Section 6] spreads its long lateral branches with its soft yellow flower balls in all directions.
The path then wanders down to the road which leads back to the café building.
Pleasant walking especially for a cold day … Barbara Daly.