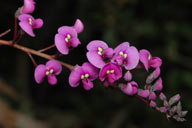 Hardenbergia violacea
click for larger image
This walk follows the Main Path which passes through areas of the lovely eucalyptus trees with white trunks, the Sydney Basin flora, the Rock Garden and the Rainforest. There are many shrubs, so many heavy in bud or in flower, all to admire.
So, commence at the far end of the café building where Acacia alata var. biglandulosa [Section 240] displays its cream flower balls edging the angulated flattened stems of this unusual wattle. Follow the path edged with xAstackea 'Winter Pink' [Section 10] with upright wispy branches scattered with tiny pink flowers and Thryptomene denticulata [Section 10,11] its arching branches clad with pink flowers. Baeckea crassifolia [Section 11] a dwarf upright plant with branches covered with dark centred pink flowers.
Pass the grass trees, Xanthorrhoea glauca [Section 8] with long flowing grass skirts to Banksia ericifolia var. ericifolia [Section 30] a large shrub displaying brilliant upright cylindrical golden flower spikes. Almost opposite Homoranthus flavescens [Section 30] is a spreading flat-topped shrub with branches tipped with dull red buds opening to small yellow flowers. Banksia 'Birthday Candles' [Section 30] is a dense dwarf shrub with its gold, candle-like, flower spikes.
Many banksias and grevilleas edge this path which include Banksia spinulosa var. neoanglica [Section 25] brilliant with yellow flower spikes while at the corner Grevillea flexuosa [Secion 25] with spiky divided leaves and yellow cigar shaped flowers. Opposite is Grevillea lanigera [Section 25] a dense groundcover profuse with pink-cream flowers.
Crossing the road beside the seat, Grevillea 'Bonfire' [Section 24] is tall and dense with few large clusters of waxy red flower spikes. Almost opposite Grevillea dielsiana [Section 26] has lovely orange-red flower clusters dangling from the branches of this open shrub.
Opposite the beginning of the Sydney Region Gully the native sarsaparilla, Hardenbergia violacea [Section 112] is now revealing its deep purple pea shaped flowers along its vine as it creeps along the ground. The path then follows the winding path through the Sydney Basin where Crowea exalata [Section 191h] with its pink star shaped flowers over the small shrub. In the garden centre, a wattle, Acacia terminalis [Section 191h] brightens this section with its showy clusters of fluffy cream flower balls. Epacris calvertiana var. calvertiana [Section 191j] is a wiry plant with an abundance of tubular cream flowers while behind the curved seat, Crowea saligna [Section 191u] is low and dense with bright pink star-shaped flowers among the bright green foliage. (It will be interesting to see the gardens about here which are now being redeveloped)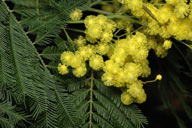 Acacia terminalis
click for larger image
The far side of the Eucalyptus Lawn the path wanders through an area of wattles where Acacia flexifolia [Section 18] is a dense low spreading shrub covered with fluffy yellow flower balls. Crossing the road Hakea purpurea [Section 20] covers its medium upright branches with clusters of bright red flowers. The Rock Garden contains many floral treasures while, close to the pools, Thryptomene denticulata [Section 15s] spreads its low branches clad with small pink flowers. The waterfall and pools are so scenic surrounded by a mix of plants in front of which, beside the drinking fountain, is Guichenotia ledifolia [Section 4] a dense rounded shrub with grey-green foliage and a profusion of downturned pink cup shaped flowers. Rhodanthe anthemoides [Section 15d] snug between the rocks, is a small dense perennial profuse with pink-white buds which will mature to white daisy-like flowers. The path then wanders through the Rainforest with its own spectacular plants. It then continues down the ramp where mint bush, Prostanthera phylicifolia [Section 210] is mauve with flowers. And so down to the Information Centre.
Pleasant walking with a variety of birds … Barbara Daly.