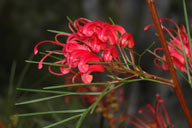 Grevillea 'Bonfire'
click for larger image
Tis midwinter with many flowers to admire including banksias with their glowing flower spikes and grevilleas many of which are bursting into flower. There are paths closed because of pipes being laid so this walk will avoid them. Outside the Information Centre Doors in pots, kangaroo paws, Anigozanthos' Kings Park Centennial Flame' stands tall with its blaze of reddish yellow 'paw' flowers on long stems. (It is far too early for these plants to be flowering in the Canberra gardens). At the other end of Banks Walk Grevillea 'Bonfire' [Section 210] is a tall shrub with branches clad with large clusters of red flowers amid the fine divided foliage, overlook the pool.
Take the road edging the far side of the Rainforest where a selection of flowers will be mentioned. Banksia spinulosa var. collina [Section 128] is a small shrub bearing upright cylindrical gold flower spikes. A grouping of Grevillea rosmarinifolia 'Rosy Posy' [Section 128] are low shrubs clad with pendular red flower clusters amid the short fine foliage. Across the roadway the brilliance of a wattle the Q'ld Silver Wattle, Acacia podalyriifolia [Section 126], a shrub of medium size clad with clusters of yellow fluffy flower balls and silver-grey foliage can be seen. Opposite the Rainforest, Grevillea 'Goldfever' [Section 124] is a small spreading shrub clad with buds and apricot coloured spider flowers. On the upper side of the Brittle Gum Lawn, Banksia spinulosa var. spinulosa [Section 109] is aglow with an abundance of gold flower spikes ribbed with dark styles.
Reaching the Main Path, turn right towards the Rock Garden passing through a range of conifers including the Wollemi Pine, Wollemia nobilis, [Section 78]. The Brown Pine, Podocarpus elata [Section 78] and the Hoop Pine, Araucaria cunninghamii [Section110].
Edging the Rock Garden, flowers include Grevillea lanigera [Section 15c] a dense groundcover laden with pink-cream flowers. In front of the waterfall Banksia 'Birthday Candles' [Section 15v] is a dense dwarf shrub with its golden 'candles' on display. Beside the drinking fountain Guichenotia ledifolia [Section 4] is stunning with a coverage of small downturned cup-shaped flowers blending with the grey-green foliage of this rounded shrub… The Rock Garden has many plants in flower awaiting inspection.
Take the road down from the Rock Garden passing few yellow straw daisies, Xerochrysum sp. [Section 4] towards the offices.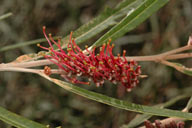 Grevillea aspleniifolia
click for larger image
Grevillea aspleniifolia [Section 124] is of medium height with enormous spread now showing few red toothbrush flowers and many buds among its dense foliage. Opposite, an emu bush, Eremophila maculata subsp. maculata [Section 302] has prominent yellow tube flowers on its low open shrub. Cross over at the next left path then veer right at the Main Path along which Olearia ramosissima [Section 303] is a dwarf plant with blue tinted white daisy-like flowers. Thryptomene denticulata [Section 9,10,11] is a low shrub with its lateral branched clad with pink flowers while Baeckea crassifolia [Section 10] is another dainty small plant clad with tiny pink petalled flowers edging its upright stems. Leptospermum squarrosum [Section 12] is of medium size with soft pink 'peach blossom' flowers edging its lateral branches. Follow the path in front of the buildings where other flowers in the Edna Walling garden can be viewed, on the way to the café.
Walking in the cold climate, so enjoyable … Barbara Daly.