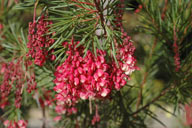 Grevillea rosmarinifolia 'Rosy Posy'
click for larger image
Leave the Visitors' Information Centre and turn left up the hill past the rear of the café. On the right is a patch of Grevillea rosmarinifolia 'Rosy Posy' [Section 126] with a fine show of pink/cream flowers on spiky green foliage. Further along on the right is Banksia spinulosa var. spinulosa [Section 109] with stunning gold cones with red/black pistils. Cross over the Main Path and as you turn right towards the Eucalypt Lawn note on the left two interesting plants in the triangular bed. Chamelaucium 'Cascade Brook' [Section 17], a billowing bush with pink wax flowers next to Epacris calvertiana var. calvertiana[Section 17] with cream tubes on heath-like foliage.
On the right there is a spectacular Grevillea lanigera [Section 15h] in bloom under the Rock Garden sign. It is a low mounded groundcover with neat foliage and cream/pink flowers. Further along on the right is another attractive grevillea coming into bloom, Grevillea iaspicula or Wee Jasper Grevillea [Section 15h]. This is a local grevillea, endangered in the wild, with red/cream flowers on dense foliage. Low down on the right is Cryptandra sp. [Section 15h] with tiny white tubular flowers on a stiff bush.
Continue along this road and notice overhead the cream ball flowers of Acacia parvipinnula [Section 18] on attractive dark green feathery foliage. On the right is Hakea obtusa [Section 20] with glorious lipstick pink balls of flower on an open plant with typically veined hakea foliage. Opposite the hakea is the unusual Acacia aphylla or Leafless Wattle [Section 18] showing bright gold balls on leafless branches. Further on the right is Hakea scoparia subsp. scoparia or Kangaroo Bush [Section 20], a sprawling bush with needle foliage and large pink/white pincushion flowers. Further along is Grevillea vestita [Section 20], a large bush with white starbursts of flower against tripartite leaves. Continue straight ahead across the road, past the Main Path Loop and turn right down the hill towards the Visitors Information Centre.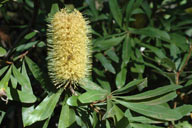 Banksia integrifolia subsp. compar
click for larger image
On your left is Grevillea sp. aff. biternata [Section 33], an open sprawling bush with white spires of flower. On the right is Banksia ericifolia var. ericifolia [Section 112] with golden red candles with gold pistils. Step off the path to the right to look more closely at Banksia integrifolia subsp. compar [Section 27] a rounded small tree with greenish yellow candles and grey pollen presenters at the ends of the pistils. Next to this banksia is Grevillea 'Sid Reynolds' [Section 27] with pale pink and red flowers with long pistils. This grevillea is thought to be a hybrid between G. pinaster and G. commutata. Step back onto the paved path and look right to see Banksia baueri or Possum Banksia [Section 28] a small bush with a large grey 'possum' bloom near the ground. Further on the right is Hakea lissocarpa [Section 28] with white tubular flowers on a small prickly bush. Also on the right is Banksia conferta var. conferta [Section 28] with greenish yellow cones turning to rust as they age. Just before the green posts look to the left to see Grevillea rosmarinifolia [Section 180] with beautiful grey foliage and dark pink blooms. On the right after the posts is Leptospermum squarrosum or Peach Blossom Tea Tree [Section 12] with five part pink blooms on small leaved foliage. Continue through the white trunks of the paperbarks to the café and Visitors Information Centre.
Rosalind Walcott