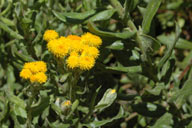 Chrysocephalum semiamplexicaule
click for larger image
Even though it is cold, a walk in the Gardens on a sunny day is delightful. This week's walk is in the Rockery. It starts at the bottom of the left hand steps near the waterfall.
At the bottom of the steps, on your left [Section 15c] is Woolly Grevillea Grevillea lanigera, a broad low shrub with pink and cream spider flowers and furry leaves. On its left is the delicate subshrub Leucopogon microphyllus var. microphyllus with groups of small white flowers.
On the right is Guitar Plant Lomatia tinctoria subsp. multiflora [Section 15d], a large dense shrub with long trusses of white flowers.
Continue up the steps. On the left is the prostrate form of Coast Banksia Banksia integrifolia [Section 15c], with large grayish green candles. A little farther on, on the right, is Correa 'Ivory Bells' [Section 15d] a large dense shrub with cream bell flowers. Next to it is a small open subshrub, Basket Flower Adenanthos obovatus, with long narrow red flowers. A little farther on, still on your right, is a native daisy, Chrysocephalum semiamplexicaule, a straggly plant. It has orange and yellow flower heads and broad leaves. On your left is Drumstick Heath Epacris breviflora [Section 15b], a small straggly shrub with small white flowers. Continuing on, on your right is Oak-leaved Dryandra Dryandra quercifolia, with large lemon flower heads.
Veer right. On your left [Section 15f] is a broad low shrub Homoranthus darwinioides, with pairs of red and cream flowers with long styles. The two slashes on the left top corner of the label show that it is rare. Next to it and a little behind it is a small dense subshrub, Astroloma foliosum, with bright red narrow tubular flowers. Continue straight on. On your right [Section 15p] is Dryandra tenuifolia var. tenuifolia. It is a low shrub with long narrow toothed leaves, and yellow-brown flower heads surrounded by narrow purplish bracts, obvious in the flower buds. Next to it is the prostrate Maxwell's Grevillea Grevillea maxwellii, with groups of bright red spider flowers and narrow many pointed spiny leaves.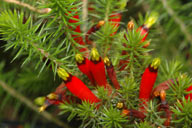 Astroloma foliosum
click for larger image
Continue straight on. On your left [Section 15k] are several small dense shrubs with bright pink tubular flowers with pale pink tips. These are Leucopogon fraseri. Near them are several small shrubs, Araluen Zieria, Zieria adenophora, with small white flowers with four petals and reddish leaves with three small leaflets.
Continue on into the Rockery Extension. On your left is a prostrate shrub, Grevillea sp. [Section 14], with red tooth brushes.
Betty Wood