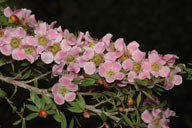 Leptospermum squarrosum
click for larger image
This week's walk is along the lower half of the Main Path loop, starting at the end of the Ellis Rowan Building, past the café.
Cross the bitumen road. On your right [Section 12] is a dense shrub with red brushes, Dwarf Bottlebrush Callistemon subulatus. A little farther on is a tall straggly shrub with pink flowers coming directly from the small branches and sharp-tipped leaves, Pink Tea-tree Leptospermum squarrosum. A little farther on, on the left, is a Heath Myrtle Thryptomene sp.[Section 10], a low shrub with small pink flowers.
After you come out of the shrubbery to the open beds, on your left is a small shrub with yellow tubular flowers, Spotted Emu Bush Eremophila maculata subsp. maculata [Section 302]. On your right are four low sub-shrubs covered in pink daisies, Daisy Bushes Olearia ramosissima.
Past the Asteraceae section is [Section 30]. On your left is Heath Banksia Banksia ericifolia a low shrub with very large orange candles. On your right is Oak-leaved Dryandra Dryandra quercifolia, a low shrub with oak-like leaves and large lemon flower heads.
Farther on in [Section 25] are several Green Grevillea Grevillea jephcottii, large dense shrubs covered in small cream flowers with red styles tipped with bright green stigmas (pollen presenters). Just past them is a dense mat of Woolly Grevillea Grevillea lanigera with pink and cream flowers.
Continue on across two bitumen roads. On your right is a low shrub, Correa 'Canberra Bells' [Section 112], Canberra's Centenary flower, with wide red bell flowers with green-yellow tips.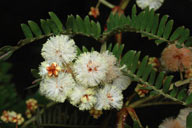 Acacia terminalis
click for larger image
Just as you enter the Sydney Basin Flora, on your left in [Section 191h] is Needle Shaggy Pea Podolobium aciculiferum, a tall narrow shrub with small yellow pea flowers, arching branches, and spine-tipped leaves. Small Crowea Crowea exalata is a small dense shrub with bright pink star flowers. A little farther on, about three metres into the bed is a tall shrub, Sunshine Wattle Acacia terminalis, covered in trusses of cream flowers.
Continue on the Main Path.
Betty Wood