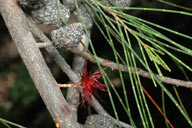 Allocasuarina littoralis
click for larger image
As we head into winter with colder days there are still plenty of flowers in the Gardens.
Turn left as you leave the Visitor Centre. At the top of the stairs are several plants of Spiny-headed Mat-rush Lomandra longifolia [Section 224] with yellow berries. Go down the stairs and turn left just before the last set of steps and go down the ramp. On your left is the endangered Rice Flower Pimelea spicata [Section 221], a low spreading plant with small white flowers with pink centres. Continue on the footpath to just after the steps on your left. Here is the tall shrub Black Sheoak Allocasuarina littoralis [Section 172] with red pompoms of female flowers and small brown cones on drooping branchlets. Turn right and use the crossings to cross two roads across the car park. At the top of the last set of steps is the small shrub Grevillea 'Scarlet Sprite' [Section 169] with red spider flowers and fine spiky leaves. Go down these steps, cross the last road in the car park, and turn left.
Just before the steps on your right, is a large tree with drooping branchlets and very thick dark corky bark. This is Forest Oak Allocasuarina torulosa [Section 170]. It has long brown male catkins. Go down the steps. Pause a moment as you cross the Rain Forest Gully to admire the tree ferns Dicksonia antarctica. Crimson Rosellas and White Browed Scrubwrens are often seen here. Across the lawn and in front of the Crosbie Morrison Building [Section 242] are the rare straggly shrub Leafless Rock Wattle Acacia aphylla with golden flower balls, and the large shrub Banksia 'Giant Candles' with very large orange spikes.
Veer left on the brick path. On your left [Section 241] is a large clump of Paroo Lily Dianella caerulea, with long stemmed bunches of pale blue-mauve flowers and straplike leaves. A little farther on, on your left, is a low shrub of a mint bush Prostanthera sp. with profuse pinky mauve flowers. On your right, still in [Section 241] is a straggly shrub of Winged Wattle Acacia alata, with white ball flowers and broad flat green stems.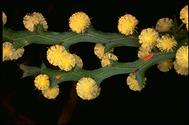 Acacia alata
click for larger image
Go up the steps towards the café. On your right [Section 241] is a small plant of Grevillea 'Scarlet Sprite' just coming into flower with red spider flowers. It seems to have much finer leaves than the one you saw earlier in the walk.
Just ahead of you is the café.
Betty Wood