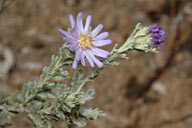 Olearia astroloba
click for larger image
After viewing the flowers edging Banks Walk, take a stroll to enjoy the beauty of the shrubs, many with flowers of the Mallee Species of South Australia and Western Australia, a section above the old nursery site. To arrive there take the marked path past the Rock Garden, casting an eye on the lovely Guichenotia ledifolia [Section 4] a dense shrub clad with small cup shaped mauve flowers. Then up through a forest of wattles now with buds and the stretches of the Eucalyptus lawn now with long tree shadows.
The road opposite the mallee section is edged with such ground covers as Chrysocephalum apiculatum [Section 300] with small clusters of yellow-orange flower heads, patches of Grevillea lanigera [Section 300] with cream and pink spider-like flowers and behind, Olearia astroloba [Section 300] small upright shrubs with mauve daisy flowers.
At the lower end of the old nursery site where the mallee section begins is a small tree clad with yellow fluffy flowers of Eucalyptus hypolaena [Section 100b]. Further up is Melaleuca radula [Section 100b], with long bare trunk crowned with fluffy pink flowers. Again, across the road a raised bed is colourful with Chrysocephalum apiculatum [Section 41] with its yellow-orange flowers, Westringia glabra [Section 41] a rounded shrub with pink flowers, Senna aciphylla [Section 41] a small shrub with bright yellow flowers. Twining about the shrubs behind, Pandorea jasminoides [Section 41] displays its large pink trumpet-shaped flowers.
Enter the Mallee Section. At the corner an emu bush, Eremophila warnesii [Section 100b] is a low spreading plant with thick grey hairy stems and leaves with few large purple bugle shaped flowers. Taking the boardwalk in an anticlockwise direction Lechenaultia biloba [Section 100a] displays its pale blue flowers on short upright stems. Beside is Adenanthos obovatus [Section 100a] is a small upright many branched shrub bright with red flowers with long red style. In the valley the lovely Grevillea dielsiana [Section 100a] reveals its pendulous clusters of orange flowers among the prickly foliage of this erect shrub. Eremophila bignoniiflora x polyclada [Section 100b] has long rambling branches and bugle shaped flowers coloured pale mauve with deeper lips and speckled throat. Olearia ramosissima [Section 100b] is a dwarf rounded shrub clad with white, with a tint of blue, daisies while close by Thryptomene denticulata [Section 100b] is a low open shrub with lateral branches pink with tiny flowers.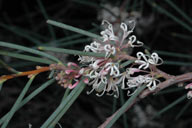 Hakea cycloptera
click for larger image
Rounding the curve where Grevillea 'Sid Cadwell' [Section 100b] is a large old shrub bearing deep pink and cream flower clusters. Thomasia petalocalyx [Section 100a] is a dense spreading shrub with pink cup shaped flowers. Banksia epica [Section 100a], crowded in by other shrubs, bears deep cream flower spikes while Banksia ornata [Section 100a] has brownish yellow flower spikes with differing foliage. Hakea cycloptera [Section 100c] is a tall shrub laden with white lacy flowers particularly on the old wood. This plant is again seen further along the path. Correa reflexa var. scabridula [Section 100c] has bulbous red and cream flowers on this low spreading shrub while
Correa reflexa Kangaroo Island form [Section 100a] is a small upright shrub covered in profusion with tube shaped red and yellow flowers. Astartea sp. [Section 100c] bears white petalled flowers on this upright shrub and at the exit, the heath banksia banksia, Banksia ericifolia [Section 103] with large angular branches has long bright golden flower spikes to brighten the dark green short fine foliage.
A pleasant walk with much to enjoy … Barbara Daly.