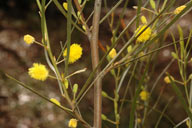 Acacia fauntleroyi
click for larger image
View the variety of flowers, mostly labelled, along Banks Walk, then take the road edging the far side of the Rainforest where this walk commences. Wattle, Acacia fauntleroyi [Section 128] is a slim upright open shrub with a woolly trunk, needle like leaves and with a scattering of yellow flower balls. Mountain Correa, Correa lawrenceana var. glandulifera [Section 125] edging the Rainforest, is a dense tall shrub with cream tubular flowers, some attached to the broad trunk, others amid the dark green foliage with branches above the road. It is interesting to view such a large correa. Grevillea 'Goldfever' [Section 124] has apricot coloured terminal flowers over this small dense spreading shrub. Acronychia littoralis [Sections 114,104] are small trees seen edging the Rainforest. They have dark shiny leaves surrounding small clusters of small petalled flowers and also clusters of ovoid cream fruits. This morning there are many butterflies coloured white, black and green fluttering about the flowers.
Edging the upper corner of the Brittlegum lawn, Banksia spinulosa var. spinulosa [Section 109] is a shrub of medium size laden with cream ribbed with red styles cylindrical flower spikes. Further back, Hibiscus pedunculatus [Section 109] continues to bear its pink flowers while, edging the Rainforest, Hibiscus divaricatus [Section 114] shows off its large yellow flower. From here looking upwards, if you are lucky, in the Rainforest there are clusters of orange fruits which followed the clusters of white flowers. They are of the Koda, Ehretia acuminata [Section 114]… (This morning the Rainforest echoes with the happy voices of a group of 'Day-care' littlies.)
The triangular garden seems to be occupied by the dying flowers of kangaroo paws but leaves space for Chrysocephalum apiculatum [Section 17] bright with yellow and orange button size flowers amid the greyish foliage. Chamelaucium 'Cascade Brook' [Section 17] is a shrub of medium size laden with tiny buds and few dark centred pink flowers. In the opposite corner, which is being cleared, Crowea 'Festival' [Section 123] a shrub clad with deep pink star shaped flowers and Eucryphia wilkiei [Section 123] with cream cup shaped flowers.
The path to the right passes groups of self seeding yellow straw daisies, Xerochrysum sp. Then a small zig-zag path to the left between sections 123 and 120, passing Correa 'Cane's Hybrid' [Section 2] a low spreading shrub prominent with pale pink-lime tubular flowers. Continue upwards towards a sheltered seat, a 'forest' of long-planted banksias which include Banksia integrifolia subsp. integrifolia [Section 37] a large dense shrub with dark green silver backed leaves and lemon flower spikes. Banksia spinulosa var. spinulosa [Section 37] with flower spikes a colour of gold. Opposite are few emu bushes including Eremophila oldfieldii subsp. angustifolia [Section 121] an open shrub with cherry red tubular flowers and prominent light green calyces. Eremophila glabra [Section 121] is a smaller dense shrub with bright yellow tubular flowers.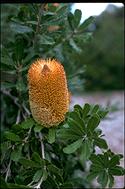 Banksia media
click for larger image
Further along this path Banksia media [Section 36] is a low spreading shrub with quite compact mustard coloured flower spikes. Returning to the stairs beside the seats where Banksia marginata [Section 36], the only local growing banksia, has a profusion of smaller lemon and ageing brownish flower spikes. Opposite a poor specimen of Banksia oblongifolia [Section 37] displays, on its bare trunk, its small immature green flower spikes. Surrounding its base is a group of these tiny flower spikes. At the top of the stairs is Hakea drupacea [Section 36] an open many branched plant with long needle-like leaves and small balls of lacy cream flowers. Follow the path to the left where Hakea francisiana [Section 36], a tall shrub with bare trunk but high up, a dense canopy of long narrow leaves and conspicuous deep pink spike-like flowers.
No more room, more flowers … all so enjoyable … Barbara Daly.