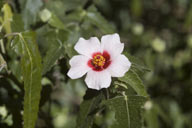 Pavonia hastata
click for larger image
A walk in these Gardens in this glorious autumn weather is such a delight. This chosen walk is close to the buildings and finishes about the Rock Garden. So, outside the doors of the Visitors Information Centre two potted plants have been so colourful for some weeks. They are Scaevola phlebopetala with trailing stems of deep purple, with yellow centre and Brachyscome sp. with soft foliage and mauve daisy-like flowers. Taking the path on the left Banksia 'Birthday Candles' [Section 210] is a dwarf spreading shrub laden with ripening to upright cylindrical golden flower spikes. A mint bush Prostanthera phylicifolia [Section 210] is clad with dainty mauve bugle shaped flowers. At the next intersection, a dense shrub with dark shiny leaves is that of the Brush Cherry, Syzygium australe [Section 313]. On its upper side are many ovoid shaped cherry red fruits and also few of its soft white feathery flowers. There also is a Plumwood, Eucryphia moorei [Section 313] a smaller shrub with oblong narrow leaves and white, almost cup-shaped flowers.
Down stairs the approach to the bridge, potted is a kangaroo paw, Anigozanthos sp. with strappy leaves and atop long stem are red and green hairy 'kangaroo paw' flowers. Past the café in the Ellis Rowan garden, a Chef's Hat Correa, Correa baeuerlenii [Section 131] is a low growing spreading shrub with lime green tubular flowers which blend in with its shiny leaves. Its name is taken from the unique calyx of this shrub. Beside it (at the entrance to offices) is Correa 'Dusky Bells' [Section 131] with dusky red tubular flowers dangling among the foliage. At this corner Banksia 'Stumpy Gold' [Section 131] is a dwarf spreading shrub revealing its immature pencil thin cylindrical spikes maturing to lovely gold flower spikes. Along this path is Epacris longiflora [Section 131] with slim white tipped red tubular flowers falling from long waving stems. Close by is Epacris 'Nectar Pink' [Section 131] with an abundance of white tipped pink flowers crowded in rows along its stems … just exquisite! Almost opposite, almost hidden by other shrubs, terminal clusters of lovely pink feathery flowers can be seen. They are of Eucalyptus (soon to be changed to Corymbia) 'Summer Beauty' [Section 240]. Surrounding the large gum tree clad with brown bark is a wattle, Acacia alata var. biglandulosa [Section 240], a shrub of medium size, dense with winged stems but what appears to be, long indented leaves, so unusual, but with cream fluffy flower balls.
Take the road to the left, passing the Q'ld bottle tree, Brachychiton rupestris [Section 10], renowned for its swollen trunk. On the opposite side of the road is Pavonia hastata [Section 124] a dense shrub of medium size displaying white flowers with a touch of pink with a maroon throat, resembling a hibiscus flower. Where the road branches to the left, Correa alba var. alba [Section 124] is another dense shrub with almost rounded silver edged leaves and white star flowers.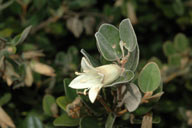 Correa 'Ivory Bells'
click for larger image
The road then leads to the Rock Garden with many flowering shrubs to explore. The path with stairs is edged with Banksia integrifolia subsp. integrifolia [Section 15c] a low spreading shrub laden with lemon shaded flower spikes. Almost opposite, Correa 'Ivory Bells'[Section 15d] is a medium rounded shrub prolific with ivory coloured tube flowers. A she-oak, Allocasuarina rigida subsp. rigida [Section 15b] is a picture for this small tree and is dense with a covering of long tan male needles. Edging the upper stairs, Grevillea 'Mason's Hybrid' [Section 15h] is a large old well-pruned shrub, dense with a profusion of terminal red-cream flower spikes. At the corner is Grevillea lanigera [Section 15h] a dense groundcover clad with spider flowers coloured pink and cream. The yellow straw flowers are those of Xerochrysum bracteatum [Section 15h]. This corner is so colourful as are other sections of the Rock Garden.
A very enjoyable autumn walk … Barbara Daly.