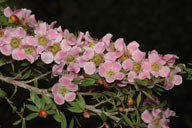 Leptospermum squarrosum
click for larger image
Rain or sunshine this walk following the Main Path is pleasant. After noting the colours of flowers edging Banks Walk, it commences at the far end of the café building. However the Ellis Rowan garden is brightened with the soft pink and white tubular flowers of Epacris 'Nectar Pink' [Section 131].
So, follow this path surrounded by many green shrubs and broken by the bright pink open petalled flowers of Leptospermum squarrosum [Section 12]. Thryptomene denticulata [Section 10,11] is a low shrub with lateral branches clad with tiny pink flowers. Off the Main Path, to the right, the large dense shrub is that of a bottlebrush, Callistemon citrinus [Section 9]. The garden of daisies contains Podolepis monticola [Section 303] with frilly yellow flowers atop upright stems. Passing the Gymea Lily, Doryanthes excelsa [Section 8] with large sword-like leaves and upright stem atop its springtime bud, Dryandra quercifolia [Section 30], beside the path, is of medium size with many dark buds now with one large yellow flower head. Opposite is Banksia 'Birthday Candles' [Section 30] a dwarf spreading shrub laden with mostly golden upright cylindrical flower spikes. Close by is Grevillea 'Coconut Ice' [Section 30] a taller open shrub with large pink-cream terminal flower spikes. Banksia spinulosa [Section 27] is a neat rounded shrub displaying its cream flower spikes now maturing to its shade of gold. Opposite, in front of the notice board is Grevillea inconspicua [Section 25] small and fairly dense with white lacy flowers. (Note that there are many grevilleas now bearing their maturing flowers along this path.)
Crossing the road Banksia 'Cape Patterson Dwarf' [Section 26] has lemon coloured flower spikes. Behind is Grevillea preissii [Section 26], a small dense shrub bright with short red toothbrush like-flowers. The large old shrub, Banksia conferta subsp. penicillata [Section 26] now has many yellowish flower spikes mixed with dark spent flower spikes. Hakea clavata [Section 26] has sharp club-like leaves and attractive pale pink frilly flowers. Grevillea vestita subsp. isopogoides [Section 26] is yet a small shrub crowded with clusters of white flowers. Across the road a Bonewood, Medicosma cunninghamii [Section 112] is yet a medium upright shrub with dark shiny leaves and small clusters of white flowers.
Cross the next road to the Sydney Basin. In the valley is a group of Native Blackthorns, Bursaria spinosa subsp. spinosa [Section 191s], tall shrubs showered with white daisy-like flowers. Opposite, Podolobium aciculiferum [Section 191h] is a well pruned shrub clad with small yellow-red pea shaped flowers. Crowea exalata [Section 191h] is a small shrub bearing pink star shaped flowers. At the junction with a road to the hot-houses, worth viewing is Banksia oblongifolia [Section 191j] an angular medium size shrub revealing its greenish flower spikes, noting the small immature spikes about the plant base. About the circular seat, Crowea saligna [Section 191u] is a low spreading shrub with waxy deep pink star flowers. There too, is Prostanthera porcata [Section 191u] a yet small open shrub with variable pink tubular flowers.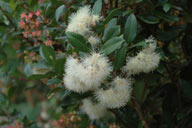 Syzygium australe
click for larger image
Cross the Eucalyptus Lawn, through the section of wattles including Acacia subulata [Section 18], small open trees with fine leaves and yellow flower balls, to the Rock Garden which includes shrubs as Thomasia petalocalyx [Section 4] showered with small downturned pink flowers and Labichea lanceolata [Section 4] bright with yellow flowers. A stroll through the Rainforest is always pleasant. Opposite the double seat Brush Cherry, Syzygium australe [Section 147] continues to reveal few of its white fluffy flowers. At the exit is a Plumwood, Eucryphia moorei [Section 313] a shrub of medium size with prominent white fragrant flowers. The steps lead down to the café.
An interesting walk … Barbara Daly.