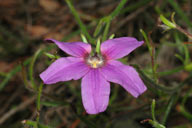 Scaevola ramosissima
click for larger image
See the combination of flowers in pots outside the Visitors Information Centre and edging Banks Walk. Outside the Centre the deep purple fan shaped flowers are that of Scaevola phlebopetala, the white flowers edging upright stems are those of Teucrium racemosum and the pink daisy-like flowers are those of Brachyscome sp. The next combination close to Joseph Banks sculpture are again of Scaevola phlebopetala but with the pale blue flowers of Lechenaultia biloba. Another pot contains Scaevola ramosissima with fan shaped flowers of a lighter shade of purple are with Goodeniaheterophylla subsp. eglandulosa having bright yellow flowers edging the long stems. Another combination opposite but not in pots is that of Prostanthera phylicifolia [Section 210] with mauve flowers and at its base a mound of bight yellow open flowers of Hibbertia vestita [Section 210].
Past the Café the Ellis Rowan garden contains Epacris longiflora [Section 131] which has tubular red flowers with white mouth on long stems and Epacris 'Nectar Pink' [Section 131] so pretty with its pink tubular flowers. The garden opposite has bottlebrushes Callistemon citrinus 'Splendens' [Section 240] dense shrubs clad with many red flowers and with a large cluster of the pink fluffy flowers of Eucalyptus 'Summer Beauty' [Section 240] showing through the foliage. Seen on the path behind these shrubs, Crowea saligna [Section 240] is a small shrub profuse with bright pink star shaped flowers.
Follow the Main Path for a short distance turning right between Sections ll and 9. In front a large bottlebrush can be seen. Opposite it is Callistemon citrinus [Section 11] with low branches along the path with crimson coloured flower spikes. The next path to the left passes Callistemon citrinus 'Firebrand' [Section 9] a small well manicured shrub with a profusion of crimson bottlebrushes mixing with the upper foliage. Numerous nectar loving birds are about these shrubs just now.
The path leads back to the Main Path to the Garden of Daisies. All seem to be yellow including Podolepis robusta [Section 303] with large open yellow flowers atop upright stems surrounded by low dense leaves. Follow this path viewing Banksia 'Birthday Candles' [Section 30] a dwarf spreading shrub laden with upright cylindrical golden flower spikes and opposite, a groundcover, Grevillea 'Bronze Rambler' [Section30] a dense plant with a profusion of dark red toothbrush-like flowers. Behind is Scaevola albida [Section 30] a suckering groundcover with a cover of pale mauve fan shaped flowers. Turn right where Banksia integrifolia subsp. integrifolia [Section 30] displays its lemon flower spikes on this prostrate shrub. Chittich, Lambertia inermis [Section 27] is a large dense shrub with many interesting orange flowers while at the end of the path Banksia robur [Section 28] has large leathery leaves and few of its interesting bottle green flower spikes which change to lemon. Beside is hairpin Banksia spinulosa var.collina [Section 28] a dense spreading shrub with narrow leaves and pencil thick green-gold juvenile flower spikes.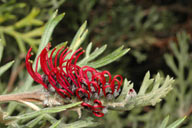 Grevillea beadleana
click for larger image
Across the road is a field of Helichrysum rutidolepis [Section 20] a dense groundcover coloured with small button-size yellow flowers. Follow this narrow winding path back to the Main Path turning left where, in front, a large shrub, Banksia ericifolia [Section 24] is bright with its golden flower spikes among the dark foliage. Almost opposite is Grevillea beadleana [Section 25] a medium spreading shrub with such interesting toothbrush-like flowers coloured almost black with red stamens. Banksia aemula [Section 6] is also a large shrub with almost rounded lemon coloured flower spikes. Other flowers of interest are edging this path which eventually leads to the road to the café building.
Such interesting gardens … Barbara Daly.